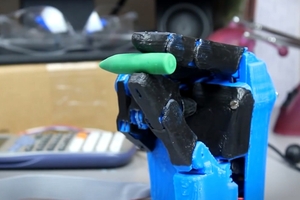 Highly functional, state-of-the-art robotic hands could be within the grasp of Kiwi amputees if a British engineer realises his dream to make his technology affordable and accessible.
What began for Joel Gibbard as a university robotics assignment has become an international open-source project that combines the revolution of 3D printing with myoelectric prostheses - robotic hands.
He says the Dextrus hand he developed can be put together for less than $1000 and offers much of the functionality of a human hand, using electric motors and steel cables instead of muscles and tendons.
"I've always been fascinated by hands because of their intricacy and complexity," Mr Gibbard said.
"Prosthetics happens to be a highly productive outlet for this interest and enables me to help people while doing something that I love."
Mr Gibbard, who recently launched a crowd-funding bid, said the project was unique because of its price and method of manufacture.
"3D printing is ideal for prostheses because there's no change in cost with different volumes of production," he said.
"Prostheses will always have a relatively low demand which means mass production is not a feasible way of bringing the cost down."
He said most robotic hands typically required a lot of custom fitting and consultations with an orthopaedist, which could prove very expensive.
In Britain, a patient could expect to pay between 20,000 and 70,000 ($38,000 to $135,000), with the hand itself costing 7000 to 25,000.
New Zealand Artificial Limb Service chief executive Mervyn Monk said the cost of myoelectric prostheses had been arguably one of the reasons there was little of this technology in New Zealand.
ACC and the Ministry of Health funded most amputee artificial limb needs in New Zealand.
Mr Gibbard said no additional custom fitting was required to use the hand, but an existing "passive" prosthesis was needed.
"You then just connect the hand and wire the sensors up to your muscles."
So far, the project has gained attention in a range of countries including the US, Japan and Australia, and Mr Gibbard has had approaches from investors across the world.
He envisaged a few early adopters trying the hands initially, but eventually he plans to bring the devices to public health services.
"On the developer side of things, New Zealand has some world-class software developers, which have been internationally recognised, most notably through the work of Weta," he said.
"I'd love to draw on this and other expertise and use it to cultivate the open-source development of the project in New Zealand."
Fingertip technology
Electric motors and steel cables work in the battery-powered Dextrus hand in the way that muscles and tendons would in a human hand.
Its plastic, 3D-printed parts operate like bones, while a rubber coating acts as the skin, with all parts controlled by electronics to provide a natural movement.
The printing technology also enabled amputees to contribute to the design of their own hand.
It uses stick-on electrodes to read signals from remaining muscles which can control the hand, telling it to open or close.
The Dextrus also articulates each finger and thumb individually, allowing it to grasp different shapes and sizes with ease, while a feedback sensor in each finger means the technology is smart enough to know it has touched an object so it can stop closing or grip the object in place.