Grant Allen gets some Dutch courage in the kitchen from celebrity chef Michael van de Elzen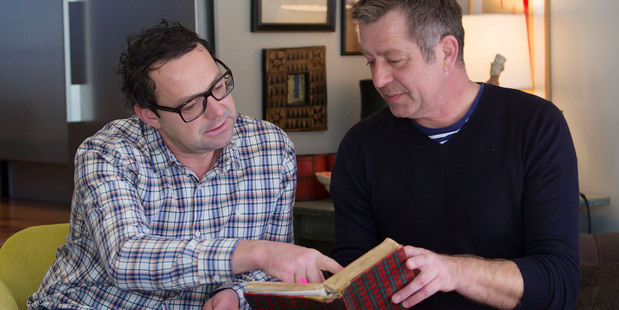 When people move around the world to settle in new countries, they not only bring with them their hopes and dreams, they also bring their food culture.
Recipes that have been cooked in a culture's homeland sustain links to past lives and heritage.
Even if a native language dissipates through subsequent generations, food from home will survive and continue to be made as a celebration of unique identity.
Often this food will spill over and become absorbed into the mainstream eating culture of the new land.
If a country is lucky enough to have significant immigration numbers from particular places, restaurants and shops will pop up and introduce us to new, international cuisines.
What would Australian food be without the major influence of Italian and Greek cooking?
New Zealand has been a bit short on significant numbers arriving in its history, even though many of us unknowingly refer back to English, Irish and Scottish food.
Traditionally there has been little exposure to more "foreign" food.
In recent times, Asian food and flavours have become common and we see some Pacific influences merging, but personally I would think the food most of us cook at home is pretty mono-cultural.
Often the only way we get to eat from some really different kitchens is to be invited into the new settler's home.
I grab every chance I can to do so. You can learn a lot about people's homelands by the way they cook, eat and show hospitality.
Food is a great cultural vehicle and, as with other aspects of our global village, its diversity should be celebrated.
Never say no to an invitation to eat with someone who is way different from you.
Growing up in Christchurch in the 50s I knew one Chinese family, one Maori family and one Latvian refugee family and there were a few Dutch families beginning to settle.
Probably all of us know someone whose heritage is Dutch.
Although the numbers were not necessarily huge, the Dutch became known for their practical, hard-work ethic and ability to absorb themselves in life here, if not their "haute cuisine".
I'm going to run into trouble here, but apart from their superb baking, I've always found Dutch food fairly plain. My Dutch partner, Jorg Kammerman, will cook up something from his childhood and it often involves boiled potatoes and cauliflower.
One of my now favourite dishes is accompanied by these and involves mince rolls, wrapped in bacon and coated with a cream and cucumber sauce.
I thought it most unusual.
However, when it comes to him making a Dutch apple cake, he cannot be beaten.
Over hundreds of years, Dutch cooking has integrated dishes and a wealth of spices from former colonies. Indonesian food, Sri Lankan spices and South African influences have merged into everyday food in Holland. As many Pacific places claim chop suey as a national food, the Dutch would perceive nasi goreng as one of theirs. It's a funny old food world, don't you think?
Michael Van de Elzen's parents immigrated here from Noord Brabant in the 60s for a new life. Jorg's family arrived in 1982 from Zuid Holland.
They each love their mother's cooking and wax lyrical about "kroketten" and "oliebollen" but it was interesting to note that Jorg's food (from a southern province) was unfamiliar to Michael, whose family hails from the north.
Even in a country as small as Holland, the regional nature of food is apparent.
As Michael hosts his new programme Family Recipes, he will be introduced to even more old family favourites.
He' plans to try to reinvent a few and make them more healthy.
Good luck to him, is what I say. Some of these recipes should remain intact as cultural records and, if encounters any old nanas along the way, he might have his work cut out for him.
Meanwhile, get into your kitchen and try some of these Dutch offers.


Recipes
• Goulash
• Slavinken Met cream cucumber sauce on cauliflower
• Griesmeel pudding (Semolina pudding)
• Ijzerkoekjes (Iron-plate biscuits)


Family Recipes with Michael Van de Elzen screens Wednesdays at 8pm on
TV One.