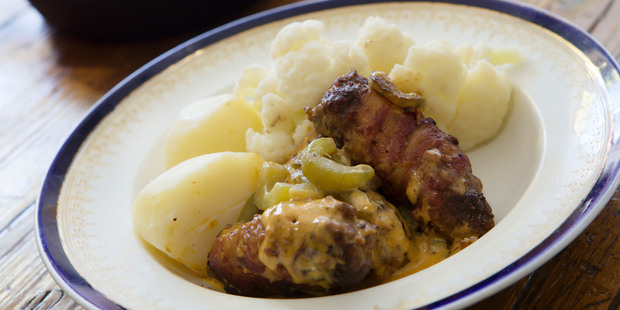 A traditional Dutch recipe with a twist. My mother found this recipe in a women's magazine in the late 1970s and has been cooking it ever since.
Makes 10 rolls
• 500g beef mince
• 2 eggs, beaten together
• 1 cup breadcrumbs
• Pepper and salt
• Streaky bacon rashers
• Toothpicks


1. Mix the first four ingredients together by hand in a bowl and form into sausage-size portions.
2. Set aside to chill in the fridge.
3. Wrap each roll with bacon and toothpick.
4. Fry the rolls in a little oil until well-sealed.
5. Remove from the pan and set aside and keep warm. Leave the oil and bacon fat in the pan.
The sauce
1. Peel and deseed a small cucumber and cut into ¾cm dice-sized pieces.
2. Cook until soft in the pan you used for the rolls, adding a teaspoon of paprika.
3. Add 2 cups of cream and swirl together, boil to thicken a little.
4. Plate the rolls with plain boiled potatoes and cauliflower. Pour the sauce over the rolls and the vegetables.