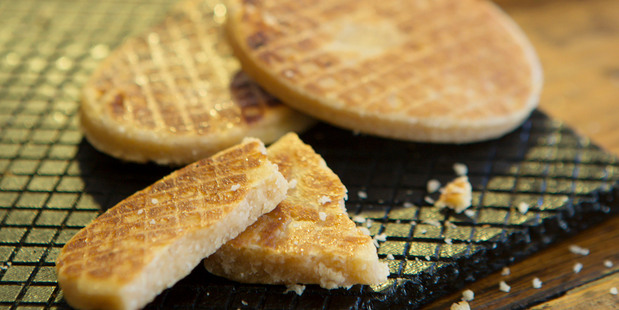 These biscuits originated from the city of Vlaardingen in South Holland. Made by a Dutch grocer named Daatje de Koe around 1838, they have become a basic staple biscuit for bakers. The ijzerkoekjes used to be popular with fishermen because of their high nutrional value and could be kept for a long time without spoiling. The iron baking plate pattern gives the biscuit its distinctive look. You could cook these in a cast-iron pan or a hot plate.
Makes around 30 biscuits
• 500g flour
• 300g caster sugar
• 250g butter
• 2 heaped tsp of cinnamon
• 1 egg
• Pinch of salt


1. Mix all ingredients together by hand to form a solid dough.
2. Store the dough in fridge for 20 minutes.
3. Roll out until 6mm-thick and cut into oval shapes. (Use an oval cookie cutter around 8cm long, 5cm across).
4. Heat your baking plate. This is a bit like making pikelets, you will know when you get the right temperature by testing a little of the dough.
5. Cook few minutes on both sides until golden brown, but make sure you don't burn them.
6. Let them cool off and enjoy with your coffee at morning tea.