Greig Morgan's cool stand may have you thinking you've had one too many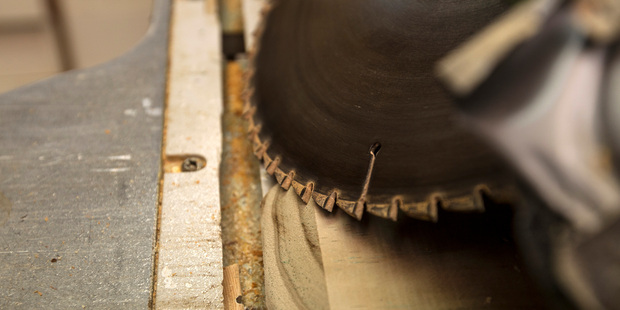 Guests will find it hard to believe their eyes when they see a chilled bottle seeming to defy gravity, but it's not a trick. It's just a wine bottle holder that employs balance very cleverly.
Not only is it an elegant way to display a fine wine, it is also a great conversation starter. Everybody wants to know how this works. Better still, it's simple to make, so you could get cracking on your Christmas gift production line now.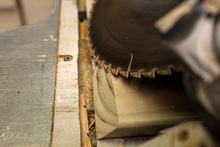 Step 1 - Start by measuring and cutting your piece to size. Mine was cut 90mm wide by 270mm long but you can vary these by the size of your bottle.
Step 2 - Set your mitre saw to cut at a 45-degree angle and cut just the very bottom off, creating a mitred end.
Step 3 - Next, measure and mark a line about 50mm down from the top and using a square, mark across the line.
Measure the centre with the aid of a square - this is the point where the hole will start.
Step 4 - Cut a scrap piece of wood on a 45-degree angle and fix it to the piece as a support when drilling the angle of your hole using a 30-32mm drill bit. Take it slowly when drilling, and use a drill press if you have one.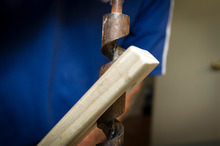 Step 5 - With the hole drilled, sand both sides using 150grit sandpaper, round off all the sharp edges as well as sanding the hole and smoothing around it.
Step 6 - With the sanding finished, apply a couple of coats of oil, varnish or stain or whatever suits your requirements. Stand the piece on the 45-degree angle and fit the bottle carefully in the hole until you achieve the right balance and there you have it - steady as a rock until you drink it.


Materials
• Nice piece of timber about 20-30mm thick
• Linseed oil, varnish or stain
• Sanding block / finishing sander
• 150g sandpaper
Tools
• Mitre saw
• Drill
• 30-32mm drill bit
• Tape measure
• Pencil
• Square
• Paintbrush r cloth