Brew food scraps, fish bones and more, writes Meg Liptrot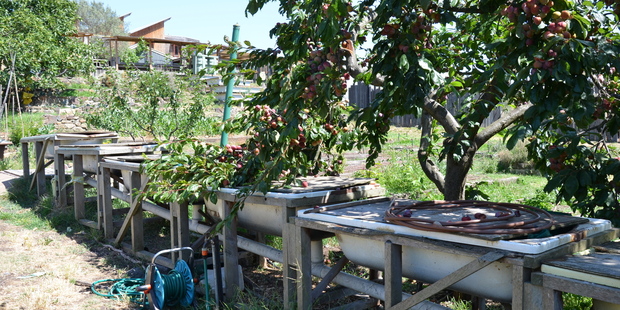 Here are some recipes you won't find on a foodie page. I'm afraid they're not in the least bit appetising, but once you get over any squeamishness, you'll save money and your garden will pay you back in spades. If you get cracking now, there's time to make some potent brews in time for summer's prime growing season. Each will have different nutritional qualities and suit one crop more than another so, apart from a few known guidelines, it will be up to you to trial them on your garden.
It pays to err on the side of caution initially and make diluted mixes, particularly if you are feeding young, delicate plants.
Vermicast and vermiliquid (black gold/worm tea)
This is a great way to make use of kitchen scraps, including coffee grinds and teabags. If you have plenty of cooked or oily foodwaste, use a bokashi system instead. A tiger worm is the ultimate waste processor, it can eat its body weight each day. Add carbon sources to your wormbin such as shredded office paper, untreated sawdust, straw or chopped dry leaves to balance the nitrogen-rich kitchen scraps. Vermicast is worm poo and is an odourless product.
By adding a little more water to your system, you can collect vermiliquid in the bottom part of a wormbin, which has a tap for a quick and easy source of liquid garden fertiliser, known as "black gold".
Bokashi liquid and EM
Great for dealing with cooked foods not suitable for the wormbin, and can be used as a sole mode of kitchen foodwaste recycling. Full of micro-organisms, which get the soil cranking, Bokashi buckets are easy and convenient to use. Each time you add your daily collection of food waste, apply a sprinkle of bokashi "zing" to inoculate the food with special "EM" or essential micro-organisms. The liquid in the catcher bucket should be drained regularly and used diluted in the garden. Once full, the bokashi bucket is left for a couple of weeks in a warm spot to ferment anaerobically. The resulting bokashi "pickle" can be incorporated with soil in a trench in your garden and planted on top of in a couple of weeks.
Fish fertiliser
If you go fishing regularly, or purchase whole fish and fillet them, this is a great use for the carcasses and bones. Fish waste is nitrogen and phosphorus rich. You can bury it in trenches mixed with organic matter and cover with soil. Plant gross-feeding crops over it once the fish has broken down. You can also use a bokashi system to process fish waste - the essential organisms will reduce the smell. After putting through the bokashi system, you can then trench into the garden, or add in thin layers to a compost and incorporate plenty of dry, carbonous material to balance this nitrogen-rich ingredient.
Comfrey tea
Grow your own potassium-rich fertiliser. The least stinky option is to fill a lidded bucket with comfrey leaves, weigh them down, and allow to rot. A black paste will form and this can be diluted to a weak tea in water. A faster method is to make a comfrey liquid fertiliser by filling your barrel with comfrey leaves and topping up with rainwater. Let it break down, cover with a lid, and stir daily to oxygenate. Great for feeding tomatoes, eggplants, capsicum and potatoes.
Seaweed
Easy to collect and make, but don't strip the beach of washed-up seaweed, as it is needed for the beach ecosystem too. This is a subtle plant food and soil conditioner which contains micronutrients, minerals and alginates. Good for watering in newly planted seedlings to help protect from transplant shock. It is a great tonic for the plant and soil, and helps protect against fungal diseases. Half-fill a barrel with chopped seaweed and fill the remainder with rainwater. Keep replenishing the rainwater as you use the fertiliser to extend the use of the seaweed. You can also dig chopped seaweed directly into the garden.
Other ingredients for a healthy garden
Mulch, compost, farmyard manure and green manure crops. One of the quickest and easiest ways to boost the health of your soil and garden is to use mulch. This adds carbon to your soil and is often overlooked as a necessary building block for plant health. Other sources of garden nutrition include farmyard manures, which are ideal when added to compost. The microbes activate your heap and speed up the decomposition process. Manure is also too rich to dig into the garden directly, particularly "hot" manures such as chicken manure which are high in nitrogen. Composting will help balance nitrogen-rich ingredients to create the ultimate garden food. Although don't use cat or dog droppings which may contain disease-causing pathogens.
Grow a green manure crop such as blue lupins on exhausted garden beds and dig in before flowering to replenish your soil for next season, boosting the nutrients in your soil.
How to use
Liquid fertilisers can be used more frequently than dry food, which you dig in. Apply during the warm growing season when the soil microbes are more active. Either pour diluted directly on the soil after watering, or dilute to a very weak solution and use weekly as a foliar feed directly on to leafy plants in the morning or evening. Test on one plant first, before applying to a whole crop to ensure your mix is not too strong, and to avoid burning foliage.