Have you been asked to coach your child's sport? Danielle Wright talks to the coaching community to find out what's involved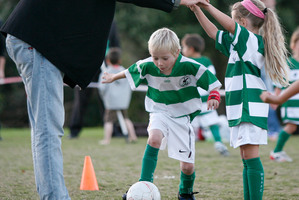 Sitting on the sidelines of your children's sport can be a frustrating experience when they have an uninterested coach. The best coaches I've had for my children's sport have definitely been the volunteer parents. So, what's involved and if it's not right for you, is it a good part-time job for your older children? Here's what we found:
Who's coaching our kids?
There's no doubt we're a sporting nation and if the bragging Facebook pictures of parents I know are anything to go by, a nation that takes enormous pride in sporting achievements. But, how much do we know about who's coaching our kids?
"New Zealand is one of the few countries left where you can coach children without completing minimum coaching standards," says Greater Auckland Coaching Unit (GACU) director Andy Rogers, who says there's a mix of student coaches, teenagers and parents in the field with a trend for more coaches getting paid.
"Pay varies from sport to sport and from organisation to organisation, but there are no formal guidelines as to pay rates," says Rogers. "There are examples of some colleges in Auckland paying extremely high figures for their coaches and others paying nothing."
Rogers says there's no need to be an expert at the sport you're coaching: "The main thing is a passion for working with children and understanding how to conduct age-appropriate and fun sessions."
GACU helps coaches to find that balance of fun and learning and Rogers says, "The sport-specific knowledge is easy to learn. Enthusiasm, a sense of humour, planning and organisational skills, knowledge of athletes' development principles, self-awareness, creativity and outstanding communication skills are more important."
For parents interested in becoming coaches, GACU has an online coaching network with a free coaching guide.
Recommended reading includes Mindset by Carol Dweck, Just Let the Kids Play by Bob Bigelow, The Coaching Process: A Practical Guide to Becoming an Effective Sports Coach by Lynn Kidman, Perfect Phrases for Coaches by Ralph Pim and Coach Wooden's Pyramid of Success: Building Blocks for a Better Life.
Getting your teenagers and uni students involved
My children have had lots of young coaches and I've always been amazed at how well they interact with the kids and the empathy they show towards them. It also looks like a much more rewarding part-time job than flipping burgers.
However, the job does come with a lot of responsibility, and limited (if any) pay in some sports.
Russ Hoggard, programme development manager for Northsport Academy and a coach since 1958, says: "As far as the young student coaches are concerned, there is a tendency to give these coaches complete responsibility long before they are able to handle it."
I've often witnessed this lack of respect for junior coaches by the older sports management but, fortunately, there are groups looking out for them. GACU has a programme called Growing Coaches.
"These are our next breed of coaches and we value them very highly," says GACU's Andy Rogers, whose programme has already had over 1000 students at high school coaching across Auckland.
"At AUT, every student taking coaching papers must complete coaching placements in the community at either a school or club," says Rogers.
"If delivered in the right way, coaching can build athletes of great character."
NZ Football's grassroots development officer Owain Prosser says: "People as young as 14 years are able to undertake NZ Football coaching courses. We are already developing the next generation of coaches."
Next year NZ Football will be introducing mandatory qualifications for club coaches to make sure players aged 4-12 have the best introduction to the game.
Hoggard, though, admits the coaching route can be long.
"First is the junior coaching squad (unpaid), then specialist event coaching (still unpaid), followed by picking up qualifications and working with older children (still unpaid), becoming a full-time amateur coach with a five-day training formula that gives you time to make a living outside of the sport (petrol money and trips to meets may be funded) and finally," says Hoggard, "if very talented, a coach may be employed with a national body.
"You would be expected to have produced several international athletes before being employed with an academy or national body," says Hoggard, adding: "It's no wonder we have trouble recruiting."
Making sport a priority at your school
There are lots of opportunities for schools to make creative sporting choices based on their location: Waiuku schools with their surfing, Farm Cove with its golf or Papatoetoe with its Olympic weightlifting club. The best schools adapt to the interests and local resources and an initiative through Sport NZ called KiwiSport provides government funding to schools.
Raise it with your school and help make sport choices exciting for your children.
The coaches' experience
Athletics
Hoggard says athletics is like a religion: you either embrace it or not.
"Embrace it! Go to a local club and offer to help on a regular basis at kids' club nights. Pick up as many coaching qualifications as you can, start a little group and train them regularly. Before you know it you will produce your first national champion," says Hoggard. "You're on your way."
In his 50 years of coaching he's seen very little change: "We've basically assembled two armies - a huge army in white coats and a very small army of coaches."
The Academy has a junior coaching squad largely made up of parents of participating children, as well as student coaches.
"Parents are where the majority of our children's coaches come from, as well as ex-athletes wanting to put something back into the sport," says New Zealand Children's Athletics Association's Brian Cockeram.
"Athletic New Zealand, our parent body, has a well formulated coach education programme. Clubs and/or regions can access this and set up courses to improve the calibre of coaches," says Cockeram. "The trick then is to retain these people within the sport."
If they do stay, it can be a passion for life. Cockeram recalls one parent coach who had a promising athlete under his wing and he needed to upskill as a coach in line with her becoming a prominent athlete.
"Now, very much a grandfather, he still helps out at his old club where his most successful athlete brings her own children, and so the circle continues."
Netball
Volunteer netball coach Wendy Emery became involved in coaching her daughter's team when her school found out about her passion for the sport. She played at a regional level before training as a nurse and crossing to the coaching side with her younger sister's team.
She says the best thing about coaching children is seeing new skills develop and watching the smiles when goals are scored.
"On the downside, the worst thing is when parents have too high expectations of their child," says Emery. "The game's for enjoyment, competition is only a small part with the younger girls."
She says: "Coaching is exciting and a rewarding experience. I want to inspire the girls to be able to reach their full potential and to help the girls find their own passion for the sport. It's also about teaching skills such as friendship, team work, fairness and responsibility."
Soccer
Volunteer soccer dad Phil Nolloth has been coaching for three years because, "If I didn't put my hand up, my son wouldn't have a team."
"I was out of my comfort zone but thought I'd give it a go," says Nolloth. "I played for the same club in my younger days so thought of it as a way to return the favour."
He says the soccer club runs a coaches night each season and provides DVDs on training and coaching clinics.
Coaching soccer takes up three hours a week for Nolloth and he's been most surprised at how much he's enjoyed it.
"I thought it might be a bit hard, but I've met some great kids, parents and supporters and enjoyed being out in the sun, rain and getting muddy - it's better than sleeping in."
He says if you're thinking of coaching your child's team, don't hesitate.
"You'll spend more quality time with your children, which they'll love, and you'll get the satisfaction and enjoyment of it, far outweighing the time and cost involved."


Racing for our country ... and our kids
Join sporting greats and celebrities in the first ANZA Challenge, a gruelling 1300km race around New Zealand for teams representing Australia and New Zealand. Racing starts in Wellington, Tuesday, October 15, heads through the South Island and back up north to finish in Auckland.
Money raised goes to the Halberg Disability Sport Foundation to help more disabled young people experience the magic of sport.
You can join the final stage of the challenge in the ANZA 10km Adults Race. And your kids can join the New Zealand Herald Schools 5km Race at Auckland Domain on October 20 (racing starts at 11am).
The New Zealand Herald has 10 group entries for schools in the 5km race to give away (each entry, for 10 kids, is worth $350). Or you can join the race between nations for charity, places are limited (schools race $45 for an individual or $35 a person for school groups)
To go in the draw for one of the 10 group entries, go to nzherald.co.nz, enter your details and why you think your school should win by Monday, September 16.