A family's story can be far more tumultuous than any blockbuster, as Linda Herrick discovers in a conversation with author Lloyd Jones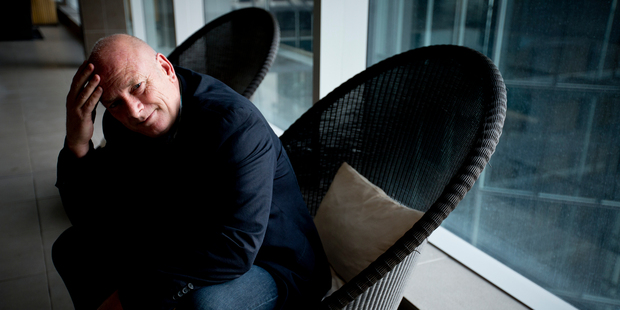 When Wellington writer Lloyd Jones needs to put a kitchen in his books, his mind always turns to his childhood home, a modest state house at 20 Stellin St, Lower Hutt.
"I have never forgotten our house," he says. "When I am writing novels, if I need a kitchen, that is the same kitchen I go back to time and time again. If I need a backyard, it's the same backyard."
Jones, 58, has written highly acclaimed novels, including The Book Of Fame, Hand Me Down World and Mr Pip, which won the 2007 Commonwealth Writers' Prize and was shortlisted for the Man Booker Prize. The film adaptation, directed by Andrew Adamson and starring Hugh Laurie, will be released in New Zealand on October 3.
But his latest book, A History Of Silence, is non-fiction. Subtitled A Memoir, it's an unsentimental and very moving portrayal of a disquieting family mystery. To write it, Jones' memory had to go beyond the kitchen and the backyard. He had to be brutally honest about his parents, Lew and Joyce.
As one of many starting points - he describes the process as "circling and circling and circling" - Jones quotes from an inscription inside Evelyn Waugh's Scoop, a book he took from his mother's house after she died. The inscription says: "For Lew with love Joyce."
He finds that odd. "While they were alive I never heard love expressed so openly between them," he writes, describing their bedroom as offering glimpses of "two beds parked as in a motel room. An atmosphere so unlived in, so spare, that the rest of the house felt over-furnished."
It wasn't just their bedroom that felt unlived-in. There was a huge void hanging over their lives. Lew and Joyce never spoke of their childhoods. Both left school at the age of 12, there appeared to be no grandparents on either side and ancestral anecdotes were few and vague.
"They met on a blind date," explains Jones. "Mum told my sister, Barbara, that she never would have married my father had she not been pregnant. Jesus, two completely uneducated people, no instructions on how to be parents, and so really they did pretty well, I think, as a family."
There was often an "atmosphere" at 20 Stellin St. Jones' mother was afflicted by what was years later diagnosed as depression, while his father was inclined to swing between what Jones describes in the book as "looking thoughtful ... but simply mimicking someone deep in thought" and sudden outbursts of temper signalled by a puce face that "sprang to".
As the youngest by far of five children - his siblings are Pat, Bob, Barbara and Lorraine - Lloyd lived alone at home with his parents from the age of 7 and, he writes, he developed "a finely tuned ability to gauge the air in the room, which at any moment might explode with the slam of a door. Someone had taken offence at something said." Often, it was best to say nothing. Silence was a way to avoid trouble.
Jones can also remember, as a little boy, car trips to Wellington with his mother, where they would park, watching a house. She always told him, casually, not to mention "this little excursion to Dad". What they were doing, he reveals early on in A History Of Silence, was waiting "for my mother to catch a glimpse of her mother, Maud, the woman who gave her away".
But Jones didn't know about that when he decided to start excavating the past, an exploration woven into his reaction to the Christchurch earthquakes, a city he visited several times in the aftermath of the destructive jolts of February 2011.
"It's a sort of conversation with the experience of the earthquake," he says, "the absence of things and the mournful forgetting. I had no intention of ever writing about it until I was walking around the landscape and it became apparent that everyone had forgotten about the origins of the city."
It was, he writes, "A deliberate forgetting of what it sat on. Swamp. Peat. Trapped water. River gravels."
The swamp had been concreted over. The same sort of covering up had occurred in the Jones family.
"The wilful forgetting plugged into the wilful forgetting in my family," he adds. "I thought maybe it's time to look into my own foundations ... In this instance, you go back and you re-occupy. Obviously, you are not the same person you were. You go back with the extra freight of hindsight and knowledge. I went back there thinking about the ancestry of silence, so then it became a question of picking up all of those things that register with that sort of thing."
Some might find it curious that Jones reacted so emotionally to the Christchurch earthquakes but, like most Wellingtonians, he has had the fear of seismic disaster drilled into him all of his life.
"The year before, when they had the first big one, I was in France, lying in bed watching the US Open," he recalls, "and one of those ticker tapes appeared at the bottom of the screen which said '7.1 earthquake in Christchurch'. I automatically thought, 'Oh Jesus, Wellington has gone and they were sending the news through Christchurch as everything would be down in Wellington'.
"If you grow up in Wellington, it's hanging over you," adds Jones, who lives in an old shoe factory in the city centre.
"From the first day of primary school you are practising earthquake drills. At high school, we had these thick concrete walls, riven with cracks and so there was some sort of strange transference. I think Aucklanders are kind of separated from all this but Wellingtonians felt very strongly connected and felt that sense of vulnerability, very much so. When I went down [to Christchurch] and wandered through the broken landscape, it brought me back to those things that are in the book: the abandonment, the sudden change in things."
Jones' search extended as far as Pembroke Dock in Wales, a place he and his siblings had been told was the birthplace of his father's father, known as "the Welsh naval captain who died at sea". From the train, Jones saw three men in a paddock, one of whom had the face of his father, who had died in 1975.
"I saw that expression on faces lining station platforms - a vacant look, bordering on gloom," he writes, and wonders about his own genetic legacy, including a tendency, he confesses, to a general rage, which he says has "quietened down", and constant irritability.
There were no answers for him in Wales, but he did discover later that the "naval captain" was a myth. The truth was less honourable: his father's father had abandoned his wife and their six children, and when she died suddenly of hydatids the children were dispersed and shunted from a state orphanage to a series of foster homes. His father had never mentioned any of this.
"It's amazing, isn't it?" says Jones. "You just absorb these things like the 'sea captain' and they go uncontested. If no one talks about the past, it ceases to be relevant. If your father has never spoken about his own father and mother, it doesn't exist as a proposition, there is nothing to explore.
"But his childhood was pretty rough. I did run into someone who knew him years ago, who had been in one of the houses where he turned up. He was so young when that happened and to be handed around like that from foster home to foster home - you probably don't have a strong sense of family without that parental love. He was a nice guy. There was a bit of melancholy there, a shipboard stare, yeah. But I don't want people to feel sorry for him."
Maud, his mother's mother, was a different proposition altogether. Jones discovered that Joyce had taken her first baby, Pat, to Maud's house, hoping she might like to meet her grandchild. He writes: "Mum is kept waiting outside on the porch ... until Maud returns to the door with a 10-shilling note in her hand and an instruction for Mum never to show her face again."
Years later, when his sister Lorraine was diagnosed with epilepsy, the doctor asked Joyce to ring her mother to see if there was a family history. "But," saidMaud, "I have no daughter."
Why was Maud so horrible to her own daughter? Eventually, late in 2011, Jones found the answers in a 125-page court transcript from 1923, held in the National Archives. When he opened the folder, "I smelt the old air of an unvisited room shut up for the better part of a century."
It was the transcript of Maud's divorce case from a Wellington man called Harry Nash. The case was sensational, with a bastard child (Joyce), a "widow" (Maud, who pretended to be married to legitimise her little girl), a dysfunctional marriage (Maud and Nash), violence, constant police calls and accusations of madness. The Truth newspaper covered the trial at length, portraying Maud as the villain and Nash as the victim.
But witnesses in the case argued that he was violent towards Maud and her young daughter - whose name actually was Betty. His cruelty to the child was so sustained that Maud decided to place her in another family's home, where she became "Joyce". After a few years she took her back again, only to betray her again with complete finality.
"Pat [Jones' sister] found the reports in the Truth," he says. "It was a sort of modern-day Salem witch trial. When I first encountered the name Betty, I thought surely my mother [who died six years ago] would have remembered her own name? I rang up a lawyer friend who is the deputy dean of the law school at Victoria University and explained the whole thing. I said, 'She is just referred to as Betty. Is there any chance they would have used a pseudonym to protect the child?' He said no. When she was adopted out, I suppose, she was given a new name, a new identity, a new start in life.
"Reading that transcript for the first time was amazing, it was voices from the grave," he continues. "You know how handwriting gives an intimacy to a personality? Well, Maud's voice was in a typed letter she sent to Harry Nash - it was strident and slightly unpleasant and I thought, 'Oh yes, that's her, ha ha'."
The transcript did have one positive outcome. It led Jones to the identity of his mother's real father - his grandfather - a widowed North Canterbury farmer called O.T. Evans; Maud became pregnant to him while working there as a housekeeper. Evans' letters to Maud, included in the transcripts, reveal a kind and decent gentleman who sent her money whenever he could, expressing ongoing concerns for the child's welfare.
The book ends with Jones visiting Evans' ruined farmhouse with his grandson, Wylie Evans. He picks up a book, King Solomon's Mines, inscribed: "To Owen Tibbott Evans, Christmas 1896, from Father."
He looks at invoices from 1938 spiked on a wire. He watches an old home movie in which he catches, just briefly, a glimpse of his grandfather's face.
"To walk around that house was bloody extraordinary," Jones recalls. "Wylie, the grandson, was saying 'this is the chair where O.T. used to sit ... then that night, to sit in that chair where he had sat and watch the film was one of the more remarkable moments of my life. It was quite emotional and a piece of the jigsaw. It was just a relief to find some sort of decency in some corner of the family."
Jones acknowledges in the book that the business success of his brother, property tycoon Sir Bob Jones, helped lift the family's aspirations.
"There's no doubt about that and my father was able to retire, but he didn't live that much longer," he says. "My mother would have half a happy pill every day for the last 30 years of her life and she finally had the country-lady life she aspired to.
"She had this sense of entitlement, which was always a bit weird. There was always a sense that some terrible mistake had been made and that she had married this man and was living in a state house and how the hell did that happen?
"But there is no doubt that this story shaped her psyche and it is transmitted, so generations on we are responding to past events that we can't see. They have been transmitted through the behaviour of my mother."
Jones pauses when asked how that has specifically affected him.
"Well, I like to be on the outside of things, on the edge of things. I am not a belonger, so yes, maybe it has filtered through."
In the book, he refers briefly to his own failed marriage and "an infatuation with a young woman". He won't elaborate on that and, politely, boxes away a suggestion that, if he is not a belonger, he may be a loner.
"Not really. I [was] initially but not now. It's nice to have somebody in your life. It's important, in a way. Sharing something with somebody is always better that just experiencing it on your own."
But, he adds with a laugh, when it comes to the new book, it's just as well Joyce/Betty isn't around to read it. "If my mother was alive, she would be absolutely appalled."
A History Of Silence (Penguin $38) is out now.