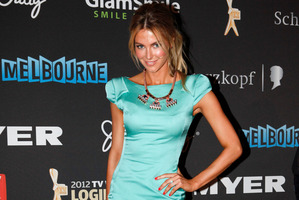 What is too skinny? A media storm struck when former Miss World and now Australian supermodel Jennifer Hawkins strutted her stuff on the catwalk in a bikini with a couple of rib bones showing.
"Is she too skinny?" shrieked the headlines, in a veiled rallying cry to talkback jocks and letter-to-the-editor writers keen to attack the fashion industry and even Hawkins for showcasing a body shape unachievable to most mere mortals.
"Unhealthy" and "anorexic" were the inevitable descriptors, suggesting the poor woman is likely to suffer a lifetime of impaired health as she pays the price for her glamour job.
As a human (exercise) physiologist, I looked at her picture not with pity because she was forcefully emaciated by the demands of some fashion label, or a twisted desire to mimic a Barbie doll - I was thinking that when your body fat percentage is relatively low, like hers, then you do feel the cold more, especially wearing a skimpy bikini.
And it is winter.
However, Ms Hawkins is not nearly as lean as our female Olympic distance runners, yet I can't remember when there was a public outcry about their physique or poor health.
So where is the educated conversation about just what is too fat and too thin when it comes to physical health?
Being thin and carrying a low proportion of body fat are two different things.
Arnold Schwarzenegger, during his bodybuilding years, was never told he was too skinny, yet his percentage body fatness was probably well below that of Ms Hawkins. Because he was endowed with an abundance of skeletal muscle, his body fat was literally diluted. Many outwardly thin people, on the other hand, carry relatively high proportions of body fat, usually because their skeletal muscle levels are low.
Medical scientists understand the importance of possessing enough muscle, especially fit muscle, to prevent many of our biggest killers.
Regardless of your clothes size, a low lean body muscle mass (read: a high body fat percentage) is a risk factor for heart disease, diabetes, stroke and some cancers.
And as our population greys we know that preserving muscle mass as we age is essential for optimal health and well-being. Why? Because it enables independent living and prevents bone-breaking falls.
I'd like to see the debate change to whether or not someone has sufficient muscle and whether they exercise, not whether we can see their ribs.
Jennifer Hawkins might be leaner than most. But that may well be because she exercises and eats sensibly. There are plenty of us in New Zealand who could do the same.
Professor Steve Stannard is head of the School of Sport and Exercise at the College of Health, Massey University.