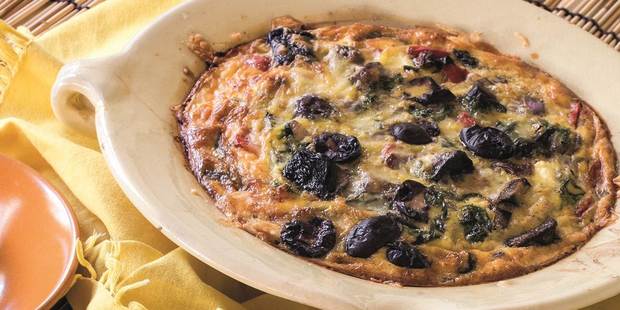 New York City Sunday Frittata from the cook book 'Made With Love'.
Serves 4 - 6
• 2 tbsp butter
• ½ half-tsp olive oil
• 1 red onion, chopped
• 2 cloves garlic, minced
• 1 sweet red or orange capsicum, chopped
• 150g brown mushrooms, chopped
• 12 kalamata olives, rinsed and chopped
• 3 sun-dried tomatoes, chopped
• 1 tsp sea salt
• 1 tsp black pepper
• ½ tsp each dried oregano, basil and thyme
• 400g baby spinach, washed and drained
• 10 SPCA Blue Tick eggs, beaten
• 150ml milk
• 200g goat's feta, crumbled
• 75g grated gruyere
Preheat the oven to 180ºC. Grease a 20cm x 28cm baking dish.
1. In a large frying pan, melt the butter and olive oil, then add the onion, garlic and capsicum, sauteing for a couple of minutes.
2. Add the mushrooms, olives and sun-dried tomatoes along with the salt, pepper and herbs, and continue sauteing for a couple more minutes.
3. Add the spinach to the mixture (you may have to add half at a time) and cook until wilted and soft. Drain the vegetable mixture well in a large colander to remove any excess liquid.
4. In a big bowl, beat the eggs, milk and crumbled feta together, then add the vegetable mixture and mix to combine. Pour into the prepared baking dish and sprinkle the top with gruyere.
5. Bake in the preheated oven for 35-40 minutes until golden brown on top. To check if the frittata is ready you can do the toothpick test - insert a toothpick in the centre and if it comes out clean it is done!
Cool for 15 minutes before cutting. Serve hot, at room temperature or chilled, with a side salad, spicy home-made salsa or fruit.