It boosts your spirit, does wonders for your body. So why has hobby marathon-runner Andy Kenworthy given up?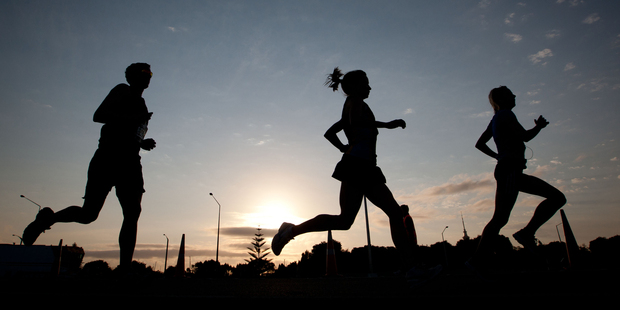 Running is perhaps the oldest sport, with competitors of every species across the globe battling it out for who gets to eat whom.
Running has also become part of the training regime of virtually everybody who wants to get fit for whatever reason, and justifiably so. Cardiologists James O'Keefe and Carl Lavie, writing in the British Medical Journal publication Heart, sum up the reasons well: "If we had a pill that confers all the benefits of exercise, many physicians might be looking for work. Approximately 30-45 minutes of daily vigorous exercise significantly reduces risks for early death as well as many maladies including early death, Alzheimer's disease, coronary heart disease, diabetes, and osteoporosis."
Running is accessible, requires no equipment, and is better for you than many more complex and expensive alternatives. The psychological benefits of exercise are also well established - studies show that running produces feel-good endorphins in the areas of the brain associated with emotion, and that most people tend to be happier and more relaxed during and after runs.
The same endorphins that produce the runner's high also relieve stress.
All this explains why we might choose to run, but not why more of us are choosing to push ourselves to go longer and faster.
Aaron Carter, managing director of Total Sport, one of New Zealand's largest organisers of endurance running events, has described the boom in both women and men participants as "an epidemic". Even some of the toughest options such as the 60km Asics Kepler Challenge and the 100km Vibram Tarawera Ultramarathon are attracting big-name sponsors, world-class athletes and selling out in a matter of days, sometimes minutes.
Mal Law, the expat Englishman who ran all seven of New Zealand's Great Walks on the mainland in seven days and the 1014km South-West Coast Path in 17 days, thinks this has something to do with the nature of this country.
"When I first came to New Zealand in the 1980s I flatted with people who all did regular exercise. In England it was an exceptional thing to do. I was blown away by how much it was incorporated into the general lifestyle. Even in the city you are running in relatively clean environments that are not too polluted. The climate and the lack of over-crowding encourages people to get out and do stuff."
But it is happening all over the world. You can now slog out a marathon everywhere from the Arctic to the Sahara, and the New York Marathon now attracts more than 45,000 runners a year.
Perhaps the motivating factors for going further are really just natural extensions of the same motivations that got us jogging in the first place. They tend to fall into three main categories. The first is achievement. Whether the goal is to shed a few kilograms, run a personal best or win the Olympics, psychology tells us that people feel good working towards and achieving difficult things. These goals can be intrinsic - entirely set by ourselves - or extrinsic: such as prizes, sponsorship and raising money for charity.
Endurance running can be highly motivating, because almost anybody willing to invest some sweat equity will very likely end up achieving things they barely thought possible.
I went from being a semi-fit non-athlete to completing my first off-road marathon in less than two years, and was able to do this 30 minutes faster two years later.
This was in my injury-prone late-30s, with my two pre-schoolers giving me sniffles and sleep deprivation. I did about six months' worth of training, which involved an hour-long run three times a week and maybe a longer run at the weekend.
There is also now a bewildering array of technical support for goal setting in the sport. A running watch or smartphone can monitor your heart rate, speed, altitude gained and more. They can then feed all these stats to your computer for massively detailed analysis with colour charts and maps that can be shared and compared on social media with anybody in the world. You can set yourself micro goal after micro goal and take on more and more challenges, even if in reality you are just jogging round the streets on your own.
And for the socially motivated, there are plenty of running clubs as well as informal groups, gatherings, training sessions and pack runs. The use of social media and the plethora of events make it easy for runners to meet others, either virtually or in person.
Even as a fairly unimpressive novice doing very minimal networking, I have become friendly with several of the top runners in the country who have been more than happy to offer me free advice and encouragement.
And in general, whether it is the lack of team tribalism, point scoring or regional rivalries, endurance running is one of those sports characterised by friendliness and accessibility to everyone, no matter what their sex, age or ability.
But there is something more. Most endurance runners make wisecracks about how mad they are, that they only run to get away from the kids, and so on. But if you take the time to get a serious answer, it is often of a surprisingly spiritual nature.
Athlete and coach James Kuegler from Cadence Coaching in Auckland told me his aim is "putting my body into that present time consciousness state of just being, at one and going through the process of running". Mal Law talked about "getting into that more natural primal state of being".
This motivation to run appears to be cross-cultural, and goes back a long way. For example, for at least 150 years in Mt Hiei, Japan, an elite group of Buddhist monks has undergone the seven-year Kaihigyo discipline, which includes completing at least one marathon trail distance run every day for up to 200 days at a time. The lung-gom-pa runners of pre-westernised Tibet chased similarly lofty goals. And around the world followers of Indian mystic Sri Chinmoy organise races, including the world's longest at 4345km over 52 days, on the basis of his teaching that running is a means of "self-transcendence".
So it seems that endurance running will get you fitter quicker than virtually any other activity, it will make you feel good about yourself, help you meet nice people, extend your lifespan, and may even be the path to enlightenment.
So why have I stopped? It was partly down to the injuries. I spent many frustrating months in and out of physio doing boring stretching exercises and short "rehab runs" to overcome neuropraxia toe numbness, Achilles tendon inflammation, calf tears and knee-stabbing iliotibial band syndrome.
There was also the loss of 5kg, which my lanky frame could well have done with hanging on to, and the skeletal "runner's face" I developed.
New Jersey cosmetic surgeon Brian S Glatt, MD has said this often effects people from the age of 40 onwards who burn too much fat beneath their facial skin from strenuous exercise. It led to a neighbour telling my wife I looked gaunt and my mother in Britain saying she thought I looked awful and was concerned about my health.
The science suggests she may have had some cause. O'Keefe and Lavie, who spoke so highly of the health benefits of vigorous exercise, have also looked at the downside.
They concluded that regularly exercising strenuously for longer than 50 minutes, which I might do occasionally in the lead-up to an event, actually puts your health at significant risk.
A 2001 study published in The American Journal of Cardiology, which analysed the blood of marathoners less than 24 hours after a race, found high levels of inflammatory and coagulation markers that are also associated with heart attacks. A 2006 study in the journal Circulation used ultrasounds and blood tests of 60 marathon finishers, and found that after the race, some runners' hearts experienced difficulty in refilling chambers.
The researchers also noticed abnormalities in how blood was pumped from the right side of the heart to the lungs. Further study found that people who'd averaged at least 45 miles (72.4km) a week in training were significantly less likely to suffer heart damage than those who ran 35 miles a week or less. This suggests the shock of competing when not fully prepared, as many "weekend warriors" like myself often do, heightens some of the risks, although the study also did also confirm that the heart returned to normal within a month.
This led O'Keefe and Lavie to warn: "If you really want to do a marathon or full-distance triathlon, it may be best to do just one or a few and then proceed to safer and healthier exercise patterns. A routine of moderate physical activity will add life to your years as well as years to your life.
"In contrast, running too far, too fast, and for too many years may speed one's progress towards the finishing line of life."
I probably wasn't working hard enough to blow my heart up - the experts suggest that the main risks are really serious only for the extremists training for hours day after day.
But the fact that I entered (and then withdrew from) the Tarawera 100km ultramarathon two years ago, suggests that I might have been headed in that direction. And this made me stop and consider whether running was actually the only or even the best means to achieve physical fitness and well-being.
It wasn't the toll endurance running took on my body, but the toll it took on my family, which made the decision for me.
I realised the joke about running away from the kids can be a sad, hollow and true one.
There were times when my running obsession was taking up to eight hours a week out of my family and/or working life, which I just couldn't afford. And in the run-up to big events, I often found my legs were so trashed I couldn't really play with my children properly, and had to duck out of activities I would like to have shared with them.
So now, instead of hammering along for hours, I go and play in my local reserve for 30 minutes three times a week. I still run barefoot for a few kilometres, but then I wade through rivers, crawl under bridges, climb trees and obstacles, balance on things and generally act like a kid again. Often I do this with my kids. And I swim and do yoga with my wife whenever I get the chance.
It feels better to be playing with them, rather than running away.