The New Zealand Woman's Weekly is the bible for Kiwi royal watchers. We were given exclusive behind-the-scenes access to the magazine's newsroom as its editor and staff produced their special collector's issue celebrating the birth of Prince George of Cambridge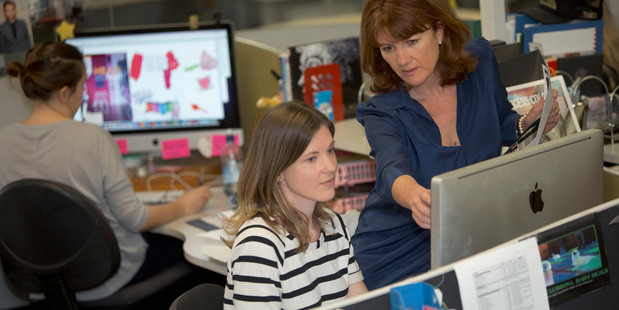 It is just after 10am on Tuesday and Louise Wright, editor of the New Zealand Woman's Weekly, is not in the best of moods. Barely three hours earlier, Kensington Palace had announced the Duchess of Cambridge, Kate Middleton, had given birth to a baby boy at London's St Mary's Hospital.
The news has started a mad scramble in the offices of the Weekly - the Bible for Kiwi royal watchers - to produce the most important edition of the magazine in years.
As thousands of pictures and words flood in from photographers and journalists in Britain and elsewhere, Wright's email system crashes.
She and her flame-haired deputy, Catherine Milford, have been up most of the night, monitoring rolling coverage of the labour and birth on social media and liaising with key members of the team.
Now Wright's main communications link is playing up. Wright, a tall and elegant mother-of-two, stands at the shoulder of an IT man sitting at her computer.
She has another computer tech on the other end of the phone, and he is copping an earful.
"This is our most important day ever," Wright insists. "Fix it. It's critical."
The edginess is understandable. The Weekly sells about 72,000 copies a week and is read by more than 800,000 people.
A royal baby special edition, spanning 38 pages of coverage, is due to go to print before the weekend. Wright is expecting a "very significant" lift in sales.
Some of the 18 or so mostly female editorial staff at the magazine's smart, fourth-floor headquarters in Auckland's Albert St upstairs from the Herald on Sunday have been working since 6am. Like Wright and Milford, most have hardly slept and are running on pure adrenalin.
Aside from quick runs to the espresso machine in the well-equipped staff kitchen around the corner, the reporters and designers barely move from their desks. No long lunches this week. No cigarette breaks.
Online editor Marilynn McLachlan, who normally operates solo from a terminal in the corner of the office, had been keeping up-to-date with events the night before from her mobile phone, while sitting in the audience at the live X Factor final.
"My kids were jealous I was at the show and they were not, but in the end I didn't really take much in because I was so busy staying on top of the news because Kate had gone into labour," the mum-of-four says.
"At one point, one of the X Factor organisers announced they knew someone had their phone on. They even tried to find me."
By Tuesday afternoon, the fear is that main rival Woman's Day will hit the streets with a royal baby special a day or two earlier than usual, to maximise sales.
To combat this, the intense focus at the Woman's Weekly is to deliver a better and more comprehensive package.
"There is an incredible responsibility on us to get this right, as it is a once-in-a-generation event," Wright says.
"This is the biggest issue of the magazine since Kate and Prince William's wedding two years ago. We have to do this differently from everyone else and tell the story through a Kiwi lens. It is what sets us apart, and is what our readers like and will expect."
As well as sifting through mountains of royal baby images and stories filed by writers, freelancers and agencies in London, the team is furiously compiling a series of homegrown articles reflecting the reaction to the new royal arrival around New Zealand.
There is an interview with One News correspondent Garth Bray, in a media scrum outside the London hospital.
There's also the dairy-farming couple from Temuka named William and Kate, whose son Marley was born the same day.
And the rest of the magazine's news and features sections must still be produced. Before the royal birth, newly-crowned X Factor winner Jackie Thomas was earmarked for the cover. Not any more.
Another sleepless night for Wright and her crew. Overnight (New Zealand time), the happy couple emerge beaming from the hospital with their newborn, but as yet un-named, son.
This means another 6am start at the Woman's Weekly on Wednesday, as the first pictures of the baby and his happy parents start arriving.
Pictures editor Amalia Osborne, a dedicated professional in her mid-20s, is sifting through thousands of images on her computer and choosing which ones to bid on from agencies and freelancers in London.
She reveals it can cost tens of thousands of dollars for the rights to just one exclusive picture. She will not say how much the Woman's Weekly will shell out on shots of the new arrival.
By now the magazine has acquired about 200 images from a shortlist of 3,000, and there is a budget to consider.
"What we are looking for is not just the perfect cover shot of the couple with the baby.
"We also need a series of images of everything that has been going on that convey a special and warm feeling we know will appeal to our readers," she says.
In London, 18,000km away, the Weekly's veteran journalist Donna Fleming is working around the clock. She is covering unfolding events during the day, and filing her stories and feeding news tips to the office in Auckland overnight.
Fleming has been writing about the royals for 15 years and has covered visits to New Zealand by the Queen and Prince Philip, Princess Anne, Charles and Camilla, and Prince William. She put herself forward for the trip as soon as it was announced Kate was pregnant.
She arrived in Britain several days in advance of Kate's due date.
"Being here on the ground has helped give me a better perspective of what is going on and the chance to experience the atmosphere in London," she says.
"While not everyone is thrilled by the arrival of this baby, there is a festive atmosphere in a lot of places.
"Most of my time has been spent liaising with a very good British news agency and checking the Kensington Palace and Clarence House news feeds, and following the live streams and BBC coverage."
Thursday morning brings more drama at the magazine. The baby has been named. The third-in-line to the throne will be called George Alexander Louis, sticking to royal tradition with a first name given to six previous monarchs.
There is a problem, though. Rival Woman's Day has gone to print early and is already on the news stands with a bumper package of royal baby news and pictures.
If Weekly editor Wright is concerned, she is doing her best not to show it.
However, after a hastily convened conference with her publisher, it is decided their magazine will be available a day early too, and will be produced for distribution by Friday.
"We could have pushed the button and come out today but we would have been missing vital information, including that the baby has been named," she says.
"We did not want to run half of the story and I believe we have made the right decision.
"I am not that bothered Woman's Day is out before us. We will simply have to do it better and that is exactly what we are going to do.
"The main challenge for us is to get across to the readers that this baby marks a new era for the royals.
"The fact that William picked his wife up from hospital himself and drove her home shows a vulnerability and openness you would never have seen from previous generations of the monarchy.
"It was also nice to see Kate's parents arrive at the hospital in a taxi to see their new grandchild. I was half expecting Kate's dad, Michael Middleton, to produce a £20 note from his pocket to pay the cabbie.
"It was all very sweet, joyful and ordinary. This is the sort of charm and detail we want to convey to our readers better than anyone else."
As print deadline approaches, the mood at the Woman's Weekly is at fever pitch.
The cover image of Kate, William and young George has been sweated over and chosen and the royal baby special will start rolling off the presses in less than two hours.
At about 6pm, the mag is finished, and the atmosphere inside the nerve centre of the magazine changes palpably. It is as if all the staff are finally able to exhale.
Wright is laughing and sharing a cup of tea in her office with her No 2, Milford. The walls are adorned with framed covers of famous Woman's Weekly editions, including several featuring the royal family.
The temperature in the room feels as it it has dropped several degrees from the heat of pre-deadline. And the Champagne and beers have arrived for the exhausted staff.
After a long week, Wright planned to go home to a family dinner and watch one of her favourite television comedy shows, Mrs Brown's Boys. Instead, to wind down, she has made an appointment for a facial at a city salon.
As she pores over the final version of the souvenir edition, Wright beams with pride.
"Months of very hard work has gone into producing this and I am so proud of my team for what they have done, they have been brilliant," she says.
"This is a historic edition of the magazine and we had to get it spot-on for the readers with a great mix of lovely pictures and words, and some nice content from a New Zealand perspective. I believe we have achieved that.
"This week has been about as intense as it gets in here, but the end result has been worth it."