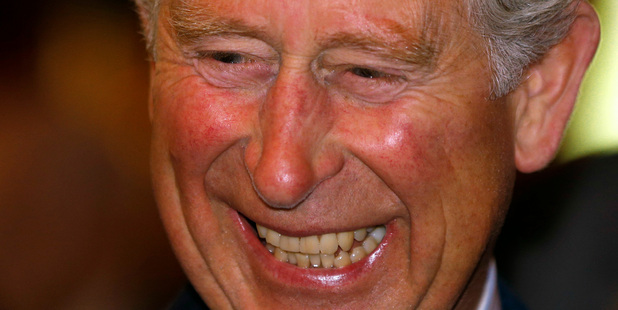 Just the other day over tea and cakes, Prince Charles was jovially asking a ladies' circle in Wales for 'any hints' on becoming a grandfather. 'Spoil them and enjoy them - but give them back at the end of the day,' he was told amid much laughter.
That joyous laughter must still have been in Charles's ears yesterday as he waited for the arrival of his first grandchild. He must also have been thinking: 'How can I be the grandfather I want to be, but never had myself?'
For Charles was only three when King George VI died, so he has little, if any, recollection of him. The Queen Mother stepped into her husband's empty space to become a sounding board and a shoulder to lean on for the Prince of Wales, until her death in 2002. How deeply he would love to play a similar role to his new grandson.
Theoretically, being grandfather to an heir-in-line should be easy in royal circles. All one has to do is encourage the child to soak up the example and wisdom of its forebears - especially its grandfather's, of course!
But there is one thought that has been troubling Charles in recent days, and almost (but not quite) spoiling his excitement. He is aware that the pull on Kate, and indeed on William, from the Middleton family is strong, and that William is evidently content in the company of Mike and Carole's family. And he is anxious for it not to be thought that Wills and his family will be spending most of their time with the in-laws, rather than him.
And yet there is a paradox at work here. For in recent years, the births of Camilla's five grandchildren have made courtiers acutely aware that Charles does not welcome the interruptions that children bring to Highgrove.
Apparently, he finds it hard to relax when they are charging about. As a result, it is common knowledge in Palace circles that the reason Camilla spends so much time at Raymill House, her own Wiltshire home near Highgrove, is that she can enjoy being with her five grandchildren there.
Will Charles soften when it is his own 'blood' grandson who is awaiting an invitation to his fastidiously kept country home?
'People are very different with their own grandchildren,' says one of the Prince's Norfolk friends. 'He will be doting, and I think he will be surprised how involved he enjoys being as the child gets a little older.
'Charles will be terrific when the child gets to two-plus, though I think that nurturing his grandson will also be a more emotional time for him than people may realise.
'The whole experience will bring up all his memories of everything that was good about Diana - and everything he got wrong. The guilt still does surface sometimes.'
Prince Charles's delight at being a grandfather for the first time at 64 is bound to be tempered by the knowledge there are now no fewer than three people waiting for the throne.
'I can tell you what he'll think when he first sees the baby,' says one dowager figure in his circle. 'He'll feel a great joy but then a pang of sympathy for the child, because he knows this lovely baby is likely to have to wait most of its lifetime before fulfilling his destiny, just as he himself is still doing.'
Charles became the longest-waiting heir to the throne in history on April 20, 2011. He has now been the Queen's heir for more than 61 years.
He will be 65 - when most men retire - in November. 'Impatient? Me? What a thing to suggest!' he declared earlier this year. Then, disarmingly, he added: 'Of course I am. I'll run out of time soon. I'll have snuffed it if I'm not careful.'
He was joking, of course - but only up to a point.
As for the style in which the baby will be brought up, Charles now understands, says an aide, that 'Diana's philosophy of making them comfortable outside palace walls and in all company was the right one'.
Yet he will also be aware that any movement away from time-honoured royal conventions should not go too far. 'The child is, after all, born to reign,' says the aide. One of the reasons Charles made an effort to join Diana in the nursery when William and Harry were small - until the marriage began to disintegrate - is that he had not forgotten the trials of his own childhood. Indeed, he upset his parents by indicating to his biographer Jonathan Dimbleby that the Queen and Prince Philip were rather distant.
Charles was a constant presence at bathtime - not just washing the infant William but clambering into the tub with him and always trying to be there to give both boys their goodnight kiss.
'He liked doing things with his children,' remembers an old Palace hand, 'though he is not the kind of man who will get down on the floor on his hands and knees to play with Lego. His idea will be to take his grandson into the Highgrove garden to point out the flowers and wildlife, or to Home Farm to look at the livestock.'
Olga Powell, William and Harry's much-loved nanny, who died last year, often said in those early years Charles was a 'fascinated father' who loved regaling staff and friends with news of the boys.
Later, of course, he came to depend on the controlling presence of the nannies. William, in particular, had a wild streak that Olga and fellow nanny Barbara Barnes were encouraged to bring under control. It meant the boys were especially well-behaved at Highgrove.
Above all where the new baby is concerned, Charles will hope to be a mentoring influence. For example, in recent weeks he may have gently reminded his son and daughter-in-law that they must obtain the permission of the Queen before they announce the baby's names.
He may even remind them that his brother Edward had the name Theodore for his son vetoed by his mother five years ago. Although it is used in the Countess of Wessex's family, the Queen is known to prefer traditionally royal names. The boy was called James.
But Charles will not want to give the impression that he is interfering: he knows only too well his own shortcomings as a parent. 'I think Charles will see his role as one of warning William about the pitfalls rather than telling him how things should be done,' says a lady-in-waiting close to the Prince. 'But make no mistake, the birth of this child is going to make him happy.'
The new grandfather might even be tempted to return to an old passion, photography, and record the early months and years as many grandparents do. Years ago, he happily snapped away, but his former valet Stephen Barry recalled how one day he simply stopped after observing that the pictures he took were never looked at again.
'He couldn't see the point of it, though the Queen has always enjoyed taking snaps of her grandchildren,' a courtier tells us.
Charles will remember that William learned much about the art of kingship at the knee of his grandmother during what Diana called his 'granny chats' at Windsor Castle. He also took lessons in responsibility and duty from the Duke of Edinburgh. Now, Charles will be hoping the Cambridges' son will in time have those vital life-lessons from him.

Such chats will, of course, be divided with the Middletons, who are expected to bear the lion's share of grandparent duties - at least for the early years. Carole and Mike will be Granny One and Grandpa One, while Charles, at least at the beginning, will be Grandpa Two.
How will Charles cope with that?
'Just fine,' says a friend. 'He knows what a good job Diana did in the early years by broadening William and Harry's experiences away from the rigid protocol of royalty, which is something he could not do. Carole Middleton will be able to do that.'
After Diana's death, the responsibility of children aged 15 and 12 was almost too much for Charles.
At times he had little idea what the teenagers were doing, or with whom, and by the time Harry was 17, the young prince was getting into trouble with drugs. But Charles learned lessons, and these days has an immensely warm relationship with both sons who, it is generally agreed, have turned out rather well.
Charles is also loyal to Camilla, and his ambition is not only for her to be Queen alongside him, but for her to be a full 'second grandmother' to the new arrival. 'He would be angry if Camilla were frozen out, as Kate and William are slightly cool towards her,' says one of the Prince's circle.
Friends have talked of a solution to this conundrum - but it would require the opening of the doors of hallowed Highgrove to the scampering feet of Camilla's highly energetic grandchildren, who are said to be 'dying' to meet the new arrival.
Can't you just see the picture: a group of children playing on the Highgrove lawns with the baby, and grandfather Charles bringing them out lemonade on a silver tray?
Well, it will probably be the butler, but those Welsh ladies gave him the wisest advice: 'Spoil them and enjoy them - but give them back at the end of the day.' Let's see if he does.
- Daily Mail