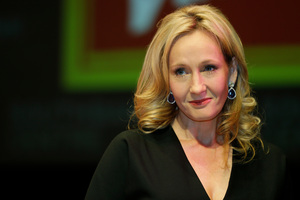 In the mid-1990s, a string of publishers turned down a manuscript by an author called Joanne Rowling about a boy wizard. It was a decision that would cost them millions in lost revenues.
Now it has emerged that other publishers missed out on a more recent payday after rejecting a detective novel that the bestselling Harry Potter author submitted under a pseudonym.
They learned of their error yesterday when JK Rowling was unmasked as Robert Galbraith, supposedly a military man and first-time crime writer of The Cuckoo's Calling.
Kate Mills, fiction editor at Orion Publishing, admitted that she had unwittingly turned down the work, and suggested others had done the same.
"I thought it was well-written but quiet. It didn't stand out for me and new crime novels are hard to launch right now."
Asked if she regretted revealing she had passed on the book, Mills said: "No, it's out there. You've got to love a book to take it on. It wasn't for me."
Celebrated crime writer Val McDermid, who wrote a blurb for the cover of The Cuckoo's Calling, unaware it was a Rowling work, said: "I have some sympathy with publishers who turned the book down. There are all sorts of reasons why people turn you down and it isn't always to do with the quality of the book. Sadly in extraordinary circumstances like this you can look a bit of a numpty."
The novel received positive reviews when it came out in April, yet until the identity of the author was revealed it had sold about 1500 copies in hardback. Yesterday it was topping Amazon UK's bestseller charts, up from 5076th place.
Rowling's spokesman said: "I can confirm the book was treated like any new novel by a first-time writer. We are not going into any more detail than that or commenting further."
Rowling's "partner in crime" was David Shelley, group publisher at Little, Brown, the group that also released The Casual Vacancy, her first novel after the Harry Potter series. According to sources close to the author, none of those working on the book at Little, Brown, beyond Shelley, knew who had written it.
Mills pointed out that the comparatively low sales of the book before Rowling was unmasked showed "how very hard it is and that even an author with the success that J.K. Rowling has had can be in the same position". She added: "I'm sure, however, that won't be the case for the paperback."
The Cuckoo's Calling follows private investigator Cormoran Strike, who is brought in to investigate when a model falls to her death from a Mayfair balcony. It received praise from crime writers including McDermid, Mark Billingham and Alex Gray.
McDermid said that she was "gobsmacked" to find out the truth. "It never crossed my mind at all. Nobody had any suspicion. The fake biog is very plausible."
McDermid had even asked for Robert Galbraith to join her Theakstons Crime New Blood panel, to be told he would be on holiday for the summer.
She said: "It was a really well put together book. There were really good characters at the heart of it, clever plotting, well-constructed and lots of suspense. It seemed to me to be an astonishingly assured debut.
"In some respects she's done with the crime novel what she did with Harry Potter. She's pulled together different elements and influences in a genre and made something her own. It has its own distinctive voice."
The Times called The Cuckoo's Calling a "scintillating debut", adding: "Galbraith delivers sparkling dialogue and a convincing portrayal of the emptiness of wealth and glamour."
Identifying her literary mark
One of those behind the unmasking of Robert Galbraith as J.K. Rowling was Professor Peter Millican, a computer linguistics expert who has developed software to analyse and compare texts.
The Gilbert Ryle fellow in philosophy at Hertford College, Oxford, was brought in to analyse the text to discover whether there were telltale signs of Rowling's penmanship in The Cuckoo's Calling. His Signature stylometric system ran nine texts in just a matter of hours and discovered that the comparison between the crime thriller and two of the author's other texts was "striking". Millican analysed the book against Rowling novels The Casual Vacancy and Harry Potter and the Deathly Hallows.
The analysis included comparison with two works each from three other crime writers.
"Nine texts is not a huge amount but it was the least I needed for the test to be robust."
- Independent