Winter's dormant gardens have a stark beauty of their own, writes Meg Liptrot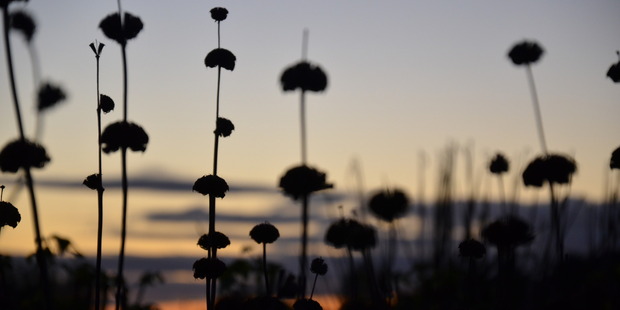 Winter is the perfect time to reflect on your garden and put ideas together for the growing season ahead.
It is also a time that has its own beauty. Certain plant choices and themes allow the winter garden to shine, and not just with winter-flowering plants. Sometimes the soft, bleached forms of grass heads and brown flower stalks are features in themselves.
There is a famous school of garden design and plantsmanship in northern Europe whose primary focus is recreating and enhancing natural style. This approach borrows from the simple beauty of natural landscapes, and can be applied in urban and rural spaces. The soft, subtle forms of grasses are used to great effect here combined with plants that fill different forms and shapes in the design. Seed heads are left on plants for their stark winter beauty.
Admittedly, we don't have quite the same romantic floral meadows to draw inspiration from in New Zealand, but we do have magnificent, rugged, tussock grasslands in the North and South islands.
Grasses catch the gentlest breezes and provide interesting movement in the garden.
I visited Fisherman's Bay Garden on Banks Peninsula last summer. It has been developed with the philosophy of integrating the wider natural environment into the planting scheme.
Jill and Richard Simpson have created a garden most of us can only dream about. Its backdrop is the dry grassland of Banks Peninsula with rugged coastal cliffs and ocean beyond. A colourful, perennial walk meanders down a gravel path with bleached railway sleeper steps, and the planting slowly evolves in colour and form to embrace the tones of the wider landscape. Flowers are allowed to self seed and form new plants in natural arrangements. Spires of yellow dwarf kniphofia give vertical accent among drifts of soft tussock and form fillers such as apricot and gold flowering achillea and blue salvia. Self-seeding poppies provide drifts of colour along the path, their uplifted faces wave prettily in the sunshine. Clumps of burgundy heuchera project delicate flowering stems against a golden backdrop.
In a more rugged part of the garden that has a view of cliffs and ocean, the non-native grasses of the paddock are being replaced with native tussocks. Richly coloured flaxes and soft hebes, native broom and cabbage trees show a New Zealand-specific approach to this mode of naturalistic gardening.
Both Jill and I share a love of the style and philosophy of Piet Oudolf, the Dutch designer and plantsman who made this style of gardening famous. His design style allows nature to shine and picks up on atmosphere and mood as a main theme to direct his planting. Plant choices are simple. The garden is allowed to evolve through the seasons, much in the way wild landscapes do, where seed heads and dry flowers are left on the plant.
In Holland in the early 1980s, Oudolf realised he could not get many of the simple wild-looking plants he admired, so he went about collecting plants from the UK, Germany and other parts of Europe including the Balkans. He set up his own nursery and commissioned a local farmer to grow seed-raised plants on a large scale, the best form and colour of which are selected for propagation. His main inspiration is to "use plants that gardeners have ignored before, such as astrantias, grasses and umbellifers, choosing those that have strong structures". These plants still exhibit their natural form, and are not hybridised by human hand; rather he has selected the best of the wild bunch for his design purposes.
How to go natural
The natural garden style works just as well in urban situations or even in collections of pots. When planning a natural garden, know your soil and conditions and plant accordingly. You will have much more success and a lower maintenance garden if you plan well. Meadow-style gardens with wildflowers suit gravelled free-draining soil, so you may need to modify your soil a little to get the required result. Incorporate gypsum for heavy soil, and some fine gravel or sharp sand. Either that or go with the flow and embrace the conditions you do have. Walk around wildish areas nearby and see what is growing naturally in the local soil.
Ensure you remove invasive grasses such as kikuyu or couch from your planting area first, or you'll be up for an impossible task. Couch is particularly troublesome; its rhizomes grow through the roots of other plants and ornamental grasses and, try as you may, you'll always have this grass to contend with.
If you have a lawn and are keen to experiment, allow it to grow long and develop seed heads through summer and autumn. Disperse wildflower mix into prepared grass-free spots or plant some of the suggestions below. Mow a serpentine path in the lawn, or lay broken concrete as crazy paving. Sow groundcover seed such as lawn camomile or plant plugs of thyme in between the pavers to scent the air as you walk on them. Place a little wooden bench seat at the end of your path and watch the wildlife come to your garden.
Ideas
• Look for robust plants with simple flowers and which will self-seed, such as poppies, aquilegia, cow parsley, lupins, clover and edibles such as coriander, fennel and chicory, plus those with architectural form, such as artichokes.
• Mass-plant flowers with wild looks, such as eryngiums, achillea, echinops, simple irises, salvias, lavender, echinacea, euphorbia, knautia.
• Wildflower mixes, and bee-forage plants.
• Grasses and sedges which provide ornamental interest in winter.