A fiery episode in our recent history is plumbed for drama, writes Rebecca Barry Hill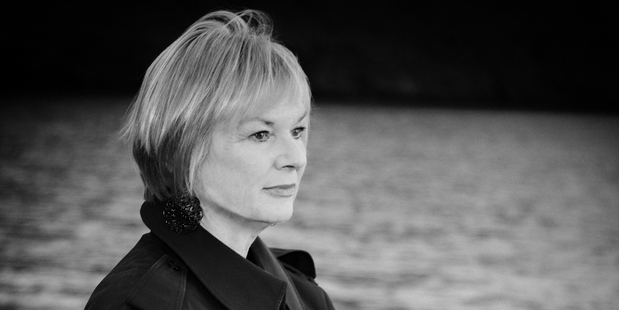 We've become complacent about the past, says a current affairs boss in the novel Cross Fingers, a psychological crime drama from Otago author Paddy Richardson.
"Nobody cares anymore, but they should, they bloody well should, and once you start looking into it you might see why."
He's talking about the 1981 Springbok tour, and the minefield of moral issues that erupted when Robert Muldoon's government allowed the South African rugby team to play here. So he sends our plucky protagonist, television journalist Rebecca Thorne, on a mission to make a documentary to mark the tour's 30th anniversary. Rebecca is reluctant - she's already working on a particularly juicy story, trailing a shifty property developer, and is busy trying to shake her ex-boyfriend, who appears to be stalking her. And anyway, she complains, hasn't the tour been done to death?
It's a fair enough question for the author, too. That fiery episode in our history has not only been covered a multitude of times, it now seems to be on the collective consciousness, with Kiwi film-makers Mark Albiston and Louis Sutherland setting their debut feature film, Shopping, during that fateful year, and a recent issue of North & South magazine suggesting New Zealand lacks young protesters.
On the phone from her home in Broad Bay, Otago, Richardson is less indignant than her fictional news editor but a little more forgiving. Life moves on, she says. Yet she still feels haunted by what happened.
"I was a young woman with three small children, living in Alexandra when the tour happened and even though I felt strongly that it shouldn't happen, I couldn't really get involved in it. So, in some ways, I was an observer. I was really sad at what was happening, and shocked by the images on TV. I talked to people who were totally involved and gave up almost a year of their lives to protest, and they feel it changed their lives."
Through Rebecca's story, Cross Fingers charts the disintegration of the nation's psyche as police were pitted against members of the public, and supposedly peaceful protests turned violent. Richardson became fascinated by the long-term repercussions, both macro and micro. "There was a definite division," she says. "In all sorts of ways, families were divided. But there were also good things that came out of it. New Zealanders saw that if there was a strong issue they didn't accept, they'd get out and protest. That was a basis for Maori land rights and I think there was very much a line in the sand after that. There was a lot of change."
Much of the book is a balancing act between fact and fiction. Rebecca's interviewees for the documentary fill in the blanks for those who might not otherwise have known the extent of the conflict.
Richardson takes in the points of view, not just of the protesters, in particular the organisation known as COST (Citizens Opposed to the Springbok Tour), but the police put in charge of managing the crowds, the Red Squad riot team, and the families divided by the conflict.
She researched voraciously and undertook her own interviews with people who remembered what it was like, and found they were forthcoming about what they went through, as though retelling it was a kind of catharsis.
Rather than set the novel in 1981, she chose to use Rebecca, a character from her fifth novel, Traces of Red, as a way to view what happened through a contemporary lens. Rebecca is desperate to resurrect her career after botching a story on a criminal, and she's still bruised after her affair with the married Joe Fahey. A trip to Rarotonga with boyfriend Rolly at the beginning of the novel sets things in motion.
"I wanted it to be someone young looking back on what it was like in 81, the social aspects, like the fact that homosexuality was against the law. It was a very different social era. It's quite difficult to really interest a contemporary audience about something that happened a long time ago but if it's someone young it can be because they're finding out about things they weren't aware of."
Breaking form with a traditional crime thriller, much of the history is told through Rebecca's interviews as she strives to find a fresh angle, stumbling, in the process, across a cold case related to the tour. She finds herself drawn to investigate the death of one of "the lambs", a duo of masked entertainers who added levity to the otherwise serious job of protesting. Dressed as sheep, they danced at the games not only to protest and show their support to the protesters but to playfully and publicly mock the law that deemed homosexuality illegal.
The fictional lambs were inspired by the real-life clowns who turned up to many of the actual protests and games. As is the shifty Denny Graham character, a credible villain who calls to mind the property sharks of the 2000s "when people made a lot of money out of people's misery", says Richardson.
The central mystery also unravels in present time as Rebecca's paranoia grows. There's the skilful weaving of a soured romance, the dark truth behind a terrible secret and the lengths some will go to to hide.
Cross Fingers was written while Richardson was a Burns Fellow, living for three months at Auckland's Pah Homestead as part of the University of Otago Wallace Residence.
She's been writing for 20 years. Richardson always wanted to be a writer and had known that one day she would be - then had her three children and worked for a time as a teacher. It wasn't until she went to a summer writing retreat that she really got going, releasing her first collection of short stories in 1987; in 2000 her first novel, The Company Of A Daughter, was published during a stint as a Burns Fellow. She then focused on crime thrillers including A Year to Learn A Woman, about a biography writer working on a book about a serial rapist, and Hunting Blind, about a missing child, and released her second collection of short stories, If We Were Lebanese, in 2003.
"I fell into crime writing by accident. To be honest, I never read many crime novels and as I started to read I'd find them quite interesting. I enjoy playing with the genre and adding other dimensions. I like to pause and dwell on the characters a bit."
Richardson was one of the New Zealand authors who travelled to Germany for the Frankfurt Book Fair, and it was there she found the seed for her next novel. She fell in love with the city of Leipzig, a two-hour drive from Berlin, and came up with a character who emigrates from there to Alexandra.
Discipline, rather than creativity, is behind her turnout, she says. That, and a great writing room. Four years ago she and her husband bought and rebuilt a house in Broad Bay, with beautiful views of the ocean. "It has a lovely study but I never use it because I like to sit in the living room with my laptop and write, so we changed that room to a bedroom. I like to do my thinking looking at the sea. I write mainly in the morning and then look at what I've done in the afternoon, go for a walk and think about it. I write every day."
Cross Fingers (Hodder $34.99) is out now.