Grant Allen travels the country to get the lowdown on artisan cheese makers and their wares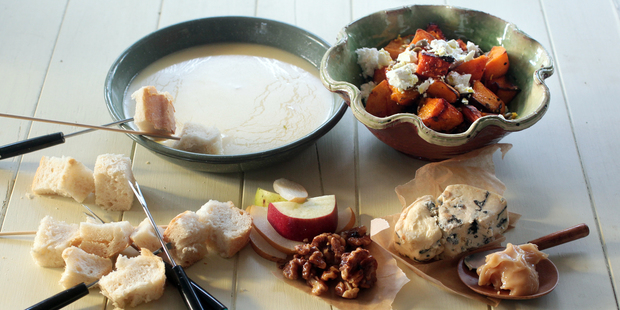 Cheese-making is an age old and relatively simple process, but a lifetime of understanding goes into building its flavour, as I learned in a visit to two cheese makers at different ends of the country.
Traditions, methods, global types, regulations, raw materials, ageing processes, artisan makers, sellers, shapes and sizes, uses and tastes and other slivers of information are swirling around my head and scribbled on note paper as I review my foray into the world of cheese.
Cheese in New Zealand is made from the milk of cows, sheep, goats, buffalo, deer and I hear someone is experimenting with horse milk.
Historically, cheese was always made from raw milk, but legislation insisted on milk being pasteurised in the interests of food safety.
Essentially, pasteurisation is the process in which the raw milk is heat-treated to destroy "nasties" and extend its shelf life. However, this process also takes away "goodies", natural bacteria that might develop into an interesting natural cheese.
Only recently has raw milk cheese been permitted to be made and sold here, but the compliance costs are so high it is seen as unviable by most cheese makers.
A growing band of artisan cheese makers are working with various regulatory agencies to try to make this less prohibitive. Cheese aficionados will welcome this.
In the broadest of terms, this is how cheese is made: raw milk is heated (to pasteurise it), then a culture is added to reinstate the natural potential character, lost by heating. The milk mix is left to ripen, then rennet is added to make a junket from the milk. This firm mass is cut into curds leaving the liquid whey. The solid curds are then transferred into basket-like containers (hoops) for the curds to compact while the whey continues to drain. After time, the solid cheese shape may be salted and stored to continue forming and ageing. Moulds may be introduced to create a blue cheese.
At any point in this process, any and all of the raw materials, temperatures, times and external conditions will have an impact on the resulting cheese. This is where the skill of the cheesemaker comes into play.
The cheesemakers
Whitestone Cheese in Oamaru started life in a converted garage with a single variety (Whitestone Farmhouse, a cheddar type), made from milk sourced locally.
Founder Bob Berry's son Simon now heads the family business and the garage has morphed into a purpose-built factory employing 50 people. It is a must visit if you are in the area.
The milk is still local but Fonterra now makes deliveries in truck-sized quantities. Don't think mechanisation has taken over though; many of the steps have to be carried out by hand, overseen at every stage by the head cheese maker, Martyn Hall.
Not surprisingly Simon has plenty of tips on eating his good cheeses. He insists you must never serve cheese cold. He also points out that once you understand how cheese ages and when it reaches its peak, you should not be afraid of an ammonia smell. In soft rind cheese such as brie, ammonia is a natural by-product of its maturing. Exposure to air will dissipate the smell, so go instead by its taste.
At the other end of the scale, Jan and John Walter and their daughter Emily of Crescent Dairy Goats hand-make goats' cheeses using milk from their own organically farmed dairy goats.
They started with one goat and now have a herd of 25, each with its own name. They are licensed by the Ministry of Primary Industries to sell filtered milk from the farm gate.
They also make award-winning cheeses at the artisan rate of one or two a day. They sell at their farm shop , online and supply directly to restaurants and specialist outlets.
Jan showed us her Farmhouse Sting, a soft, creamy farmhouse cheese layered with nettle leaves. I was fascinated by their feta, Salt of the Earth, which is aged by being suspended in brine in oak red wine barrels. Jan claims that even the mood of the goats and the mood of the cheese maker influence the outcome and, as she lovingly and gently cut the curds, I could not imagine she has too many bad results.
Canterbury Cheesemongers also started small. Martin Aspinwall took to buying and ageing cheeses to on-sell from a trailer at local markets around Christchurch. After the ravages of the earthquake took him back to square one, he and his wife Sarah are up and running again in the Christchurch Arts Centre.
Martin is a non-stop enthusiast on all things cheese and has introduced New Zealand to the concept of cheese mongering , a person who buys and sells cheeses. His constant interaction with suppliers mean that he and cheese makers can work together, developing and refining cheeses based on customer response.
Martin sees it as his job to care for the cheeses, only letting them sell once they have reached their prime and always advising, educating and promoting cheese to all who will listen. Martin has Whitestone and Crescent Valley cheeses in stock, so they must be good.
And just when I thought I had enough scraps of cheese information in my head to make a cheese ball, today I came across another self-proclaimed cheese nerd. Calum Hodgson is about to launch The Dairy Beer and Cheese Room in Ponsonby Central.
Calum is joining forces with Tara Brogan, who owns the neighbouring Foxtrot Parlour in Ponsonby Central, and their new shop will sell only New Zealand cheeses.
As I talked to him, various deliveries were arriving from all over the country in readiness for this weekend's opening. Like Martin, he's a font of knowledge and is also formerly of the famous Neal's Yard Dairy in London. He could talk about cheese forever and even blogs about it on his cheesesolidarity blog.


Recipes
• Cheese fondue
• Roast pumpkin, pumpkin seeds and feta
• Blue cheese partners