Michael Burgess gets totally immersed in a foreign language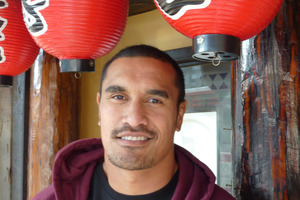 Well, I guess this was what I had signed up for. I was five minutes into my first Japanese class and yet to hear a word of English. Not even an introduction. This felt like deep-end learning.
"Konbanwa", the teacher said slowly again. "Watashi no namae wa Takako desu. Doozo yoroshikuonegaishimasu." She repeated herself but, to paraphrase a former football star it seemed completely like a foreign language to me.
However, by the end of the first 90-minute class some words and phrases were beginning to stick. As everyone is forced to speak, and overcome their fears and shyness, you realise you are all in the same boat, which eases the tension.
This kind of total immersion is a new approach to language-learning, far removed from memories of my high school French classes. The teacher, who wasn't actually French but insisted on speaking with a strong Gallic accent, even in English, wrote lines and lines of grammar on the blackboard.
We learned how to read and write phrases such as "Can I buy some apples?" or "Where is your dog?" but nobody ever spoke, either inside or outside the classroom. It wasn't a positive experience.
Thankfully now, there is more emphasis on active learning, which is why we were immersed in Japanese from the first minute. We learned practical words and phrases and the teacher assured it would be fun.
Apart from that French class and smatterings of te reo, the part of my brain that handles language acquisition hadn't been troubled much over the years. I picked up some Spanish in South America but that was learned from immersion; from living there, outside a classroom and grammar and guilt free.
I had also taken some evening courses at other institutions but large classes give people the ability to "hide" and not say a word. Our Japanese group was just seven students and everyone had a turn in the spotlight. My motivation was simple; I had an upcoming trip to Japan and I wanted to be able to engage at some level with locals.
In sharp contrast to previous decades, these days Kiwis are more aware of languages than ever before. According to recent studies, there are now more than 160 languages spoken in New Zealand and you are as likely to hear Mandarin, Spanish, Korean or French walking down Queen St as you are English.
Even though language learning is not mandatory beyond basic introductory classes at high school, there seems to be a growing demand among adult learners. "Traditionally, the greatest interest has been in the 'big four' European languages [French, German, Spanish and Italian]," says Peter Chapple, general manager of Euroasia, one of the oldest language schools in the country. "But we have seen a growing interest in Asian languages, especially Mandarin. When we started offering Mandarin about six years ago, it was very much a minority interest and students seldom continued beyond level one. Now, it is the most popular language course we offer."
Euroasia now offers seven levels in the language of the "Middle Kingdom", including an advanced class.
Chapple adds that Korean is also becoming more popular, and there is increasing interest in other European languages such as Dutch, Portuguese and Russian.
Common reasons that people embark on a course include travel, business contacts or because a partner speaks that language. Motivations could also derive from family heritage or a general interest in a culture. Chapple's favourite story involves a proud Kiwi dad who learns a new language whenever one of his sons gets a new (foreign) girlfriend, so he can communicate with the prospective in-laws. He has delivered a speech in Spanish at one subsequent wedding in Chile and is now learning Mandarin following a blossoming new romance.
In my class, one student was there on the encouragement of his Japanese girlfriend and two others were planning to live in Japan in the future. Another just wanted to "use his brain", and one loved Japanese movies and animated comics.
Japanese looks daunting. There are three different scripts; Kanji, which originated in China, has around 2000 characters for everyday use, Hiragana (simplified Kanji) with 46 symbols, and Katakana which also has 46 symbols. They're all more complex than our alphabet of a mere 26 letters.
However, there are some saving graces. Japanese has been romanised (written in the Latin alphabet) and all the vowel sounds are the same as Maori. Handily, a lot of words sound like their English equivalent, mostly those of foreign origin.
Country names include Amerika, Kanada or Roshia (Russia). Nouns include rajio (radio), ferii (ferry) and basu (bus). You might wear a jaketto (jacket), seetaa (sweater), suutsu (suit) and nekutai (tie). Food items provided some amusement - bisuketto (biscuit), potetochippusu (crisps), kai (shellfish) and kukkii (cookie). Then there was the sporting terminology - ragubii (rugby), sakkaa (soccer) and my favourite, kuriketto (cricket).
Our beginners' course was focused exclusively on speaking and listening. Reading and writing was saved for higher levels.
Language learning came under the spotlight earlier this year, after the Prime Minister's comments during a trip to China. John Key said that more people, especially youngsters, needed to study languages and that learning Mandarin was "essential" for our future business relationship with China.
Key pointed out that only 89 schools in this country (out of a total of about 2500) offer classes in Mandarin, but said that figure needed to increase. The Prime Minister added that 2012 was the first year that there were more school students studying Mandarin than Latin, a late but welcome breakthrough.
My progress in Japanese wasn't rapid but there was a genuine satisfaction with every small step. Though structures were important, we weren't bogged down by grammar and the course constantly emphasised relevance. I enjoyed the challenge and it was also a good mental diversion from work.
Fast forward two months and I'm in in Tokyo, where reality bites. Even if your question is understood, good luck understanding the answer. But it certainly helped having a base.
It gave me confidence to try simple exchanges and it helped that Japanese people were incredibly patient and tolerant.
I was throwing words around everywhere, randomly like confetti, but enough to be understood. One of the highlights of my trip was a conversation with a taxi driver in Nagoya; it lasted about five questions before I ran out of relevant vocabulary, but made me feel that all the effort had been worthwhile.


Learning the lingo
Jerome Kaino, former All Black: Japanese
One of the stars of the 2011 Rugby World Cup, Kaino has been based in Japan since July last year. Along with adjusting to a different culture and lifestyle, Kaino has also been tackling a new language. A translator assists during team-based activities but outside rugby the 30-year-old has to fend for himself.
"It has been a huge challenge," admits Kaino, who enrolled in classes on arrival.
"At first, every little thing was a struggle but you do pick things up gradually."
Kaino now manages to order food, chat to taxi drivers and has a reasonable command of everyday Japanese.
"It's very fulfilling when you learn, even just little things," says Kaino. "It gives you an insight into the culture and the people."
Kaino's daughter Milan, 3, has regular Japanese classes and is picking up the language quickly. "Soon she will be helping us," laughs Kaino.
Sir Graham Henry, former All Blacks coach: Spanish
After the 2011 World Cup, Henry took on a new position as a technical adviser with Argentina last year, necessitating a number of visits to the South American country and plenty of sessions with the Spanish-speaking players. So how is his espanol now?
"I'm bloody fluent señor," joked Henry. "Si, si, si [yes, yes, yes], gracias [thank you]."
The 68-year-old says he has picked up some words and phrases but admits his Spanish remains "limited". Some "rugby English" is spoken worldwide (words like ruck, maul and scrum tend to be universal) which has helped and many of the Pumas have a good level of English.
Though he can see the benefit, the long time headmaster has no plans to return to the classroom. "Unfortunately I've just got to much on the plate at the moment," says Henry.
Nick Wilson, Black Sticks: Dutch
The Black Sticks striker, who plays professional hockey in the Netherlands, started learning Dutch this year. He combines self study with some time in the classroom. "I thought it was important to get involved in the culture and the Dutch people also appreciate someone who tries to speak their language," says Wilson. "The most satisfying part is having small conversations in Dutch with people you don't know."
Stephen Brett, Former Crusader: Japanese
Kaino's Toyota team-mate Stephen Brett has spent three years in Japan but had the advantage of arriving fairly fluent. "I studied Japanese at high school," says Brett, "and that has been a big help. I can get by in most situations and it makes life here more enjoyable, that is for sure."
It's also handy on the field. As the first five eighth and playmaker, Brett has to guide the team around the park, with no time for miscommunication. "There are some rugby words that are universal," says Brett. "But it helps to have both languages."
Maria Tutaia, Mystics and Silver Ferns: French
The Silver Ferns star has being studying French for the past few years. It's always been an interest and also helps when she visits her boyfriend, a professional rugby player based in France. Netball and other commitments can get in the way but Tutaia is enjoying the experience. "My French has its moments," laughs Tutaia, "I'm still mixing words up a lot but I think I'm making some progress."

Class fees
• Euroasia, $368 per term (10 weeks, includes all materials), maximum class size 10, euroasia.co.nz
• University of Auckland Continuing Education, $265 per term (10 weeks, course materials may be extra cost), class size 10-25, cce.auckland.ac.nz
• Unitec, $220 per term (15 weeks, course materials may be extra cost), class size 10-25, unitec.ac.nz