Julie Thomas was forced to spend the first four years of her life in bed — any physical exertion, even crying, threatened her life. Books were her saviour. Now, four decades later, one of the world's top publishers has come knocking on the Waikato author's door. She talks to Carroll Du Chateau about open heart surgery and never giving up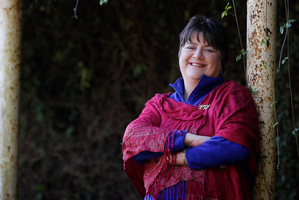 In three hours Julie Thomas dashes most of my preconceptions about first-time novelists. Her first book, The Keeper Of Secrets, centres on a violin, something she knew "diddly squat" about when she started.
She penned her novel over seven years, researching and writing between 4am and 8am before heading to her full-time day jobs: first as a radio copywriter ("invaluable - taught me brevity"), then on to television and film where she wrote, produced and "script-doctored" everything from sports programmes and documentaries to dramas.
Then, after her novel was turned down by some of the world's top publishers, she didn't sulk or give up. Instead, she put it on the internet.
The Keeper Of Secrets is a gripping, highly emotional story that stretches
across three generations. Although it begins in New Zealand during an imagined final night of a Michael Hill Violin Competition in Queenstown, 2008, it quickly moves to Chicago, then reels back to 1935 as Berlin is heading towards World War II.
Later come the grim concentration camps of Dachau and Auschwitz, Stalinist Moscow after the war, modern London. Then back to present-day America.
The writing is fast-paced, taut and spare, the story told through drama-like scenes by a cast of memorable characters.
Throughout, the connecting thread is a priceless 1742 Guarneri del Gesu violin that disappeared from a German Jewish family during the war - a violin even more precious than the Stradivari that were crafted earlier. A violin that in the right hands produced such a beautiful, melancholic sound it was known as "the tears of heaven".
Thomas' writing career goes back to her early childhood. Born with life-threatening congenital heart defects, she was forced to spend her first years in bed. Any physical exertion, even crying, would turn her blue, threaten her life. She had to lie still. When she was 4 and old enough, she became the ninth child to undergo pioneering open-heart surgery, performed by Sir Brian Barratt-Boyes.
"I was one of Sir Brian's first successes and I'm one of the oldest survivors of that generation of babies."
Rather than leave her little girl in hospital while her body matured enough for the operation, her mother, Thelma, took Julie home to Cambridge and nursed her for four years.
"The way she kept me quiet and amused was by reading to me," remembers Thomas.
"Soon I learned to read myself. I started on Paddington Bear books. By the time I was 5 I was reading magazines and newspapers and by 8 I had the comprehension and reading skills of a 17-year-old." She also had plenty of time to compose her own stories.
A set of Jane Austen books given to her by her father when she was 10 helped her writing style improve mightily. She's been writing short stories, novellas, memoirs, movies and novels ever since.
After a stint in London working for the BBC, Thomas decided to sort out her work/life balance. Spending four to five hours a day on her book projects and holding down full-time jobs as well was too exhausting. So she headed back to New Zealand and Cambridge, where she set up home with her mother, who was then widowed and in her 80s.
With its church spire and old oaks set among the velvet paddocks of racehorse breeders, Cambridge is a world away from inner-city London. It's also a literary haven. Over the bridge in Leamington, where Thomas lives, the streets are named after writers. "Go up Shakespeare, down Wordsworth St and into Chaucer," she tells me.
The family is well known here. While her father, Hal Thomas - a spitfire pilot in the war - came from north of Auckland, her mother, Thelma Browne, had lived on a Cambridge farm.
"When I bought this house I was mortgage-free," says Thomas, welcoming me in. On the kitchen bench there's a batch of the famous family shortbread and in the study where Thomas writes is a yellowed, small-screen Dell monitor on the table - she's about to get a new monitor, but has been too busy. Instead, she's been hand-wrapping giveaways for the local launch of The Keeper Of Secrets.
At 50 Thomas is still a tireless worker. When she was in radio she'd write 72 commercials a day "and I was the receptionist on Saturday mornings", she says. "There was no time for writer's block."
Despite the work/life balance she assures me she's working on, she still talks fast and smart. She still gets up at 4am and writes hundreds of words before heading up to the nearby rest home to visit her mother, now almost 90, who's recovering from a stroke followed by an operation.
The year before she returned to Cambridge, Thomas sent her opening chapters of her novel, then titled The Secret Keepers, to seven international publishers she rated highly, including Geoff Walker, who was then running Penguin New Zealand. It's not surprising she refused to take "no" for an answer after all eight turned her down.
"I got back letters saying, 'this is beautiful, and beautifully written, but you're unknown. We can't take a chance on you'."
So she decided on a new challenge: publishing her books online. The Secret Keepers had taken her seven years to write and she knew it was good. So she decided to do it herself.
"I chose the Amazon Kindle website first, because I knew it best," she says. "But then I realised I was only covering half the marketplace. I needed to be on the Smashwords website as well."
Smashwords is a premiere catalogue available at American book chain Barnes & Noble and through iTunes, "which gives you access to Apple and Sony plus Kobo and other e-readers".
She let her copywriting talents run wild as she described her novel.
"They give you two pages that you use to display a thumbnail of the cover and a 300-word short product description or synopsis of the book."
Would-be writers can also upload 15 "tags" to ensure their books will be brought to the attention of readers interested in the genre and topics covered.
"You need to be general, so that anyone searching by genre will find it," she explains. "So I put in 'historical fiction, holocaust, violin, America, music, WWII, Jewish ..."
On September 9, 2011 The Secret Keepers hit Amazon's digital bookshelf.
"On day one I sold three copies," she says, "then I went to bed and it had sold 1320 by next morning. And then it started to build."
Within nine months, 45,000 copies had been downloaded and The Secret Keepers became the best-seller on the Amazon Jewish Fiction list. "And it's the only book written by a Gentile."
It also received 65 five-star reviews on Amazon, Smashwords and GoodReads feedback forums.
"The Americans work on algorithms," explains Thomas. "Your book's rating is based on the reviews and sales figures. My Kindle is the only one on the Jewish best-seller list and it's been going up to 15 and down to 19 for 20-odd days. When you self-publish it's hard not to get fixated. I've been going to all the forums. I really worked at getting my book out there. Now I won't let myself look at the figures."
She also uploaded her three other books. A collection of short stories called Stirred Not Shaken, a wine crime novella (the first in a series of three) and an edited version of the 98 letters her father wrote home during his war years, called Our Father's War.
"I did it for exposure, never dreaming it would happen like this, and included Dad's letters predominantly for the younger members of the family who don't know the details of his war adventures."
The money is okay without being fantastic. "You get a royalty. The price of the book is from 99 American cents up to $2.99 and you get 33 per cent. You can charge more and get 70 per cent, but I didn't do it to make money. I did it to make my name." It worked.
Eight months later, on May 15, 2012, an email arrived from senior editor Carolyn Marino from HarperCollins New York and Thomas' world changed forever.
"Her email said they liked my e-book. She'd found it very engrossing and would like to talk to me about my writing. 'And if you're interested, you can email me'."
The subsequent conversation was seriously exciting: "They wanted to publish it as a trade paperback under the imprint of William Morrow. And yes, I'd get an advance!"
The deal meant that The Secret Keepers had to be taken down from all its electronic formats while Marino and her editors, collaborating with Thomas, re-edited the book.
For a book that was already an online best-seller, the changes Marino wanted were substantial. "America would phone almost every day. 'Hi Julie, it's your people,' they'd say. Then, a week after this happened, Mum had her stroke."
So while Thomas spent much of the day in hospital with her mother, she did her usual thing and put in another day before dawn, working with her new editors.
"The line-by-line edit was very thorough," she says. "Most of the changes focused on the two teenage boys, Simon Horowitz [the 14-year-old Jewish prodigy whose family owned the Guarneri del Gesu, before he was sent to Dachau concentration camp with his father and brother] and Daniel, his 14-year-old grandson who was born into modern Illinois.
"I'd written Daniel as a young boy and Carolyn felt a 14-year-old American kid would be more sophisticated."
"She also suggested I 'age' Simon, because although a 14-year-old living in 1930s Germany would have been considerably less mature in many ways, the harsh anti-Semitic laws and deprivations Jews were forced to live with would have aged him way beyond his years."
She made the changes with enthusiasm. "I believe that criticism is hugely valuable," she says.
Early morning writing is part of Thomas' secret. "I love mornings, I love the quiet. I'm always refreshed. If I'm having a writing problem I give it to my subconscious and by morning it's there, solved. There are a lot of things that go into your memory over the years, and that's when they surface."
Her own original research had been meticulous. "I wouldn't put anything in if I couldn't find it in three sources. For example, I referred to Koyla's number tattooed on his wrist. They only tattooed at Auschwitz."
By August 2012 the rewrite was complete. The book even had a name change: The Keeper Of Secrets.

The book was launched in America on June 1, but Thomas didn't attend. Instead, she focused on the launch at her local bookstore in Cambridge. There, she was supported by her church choir and her book group as well as colleagues, through her presidency of the local New Zealand Society of Authors.
"Fieldays are over. What else is on in Cambridge on a Monday? Well actually, our choirmaster had to cancel practice."
When I visited Thomas was busy whipping up cupcakes for the event. "I'm doing the catering!"
Early sales figures for The Keeper Of Secrets and Thomas' other books are promising. Our Father's War has sold 20,000 copies and has its own slew of five-star reviews. And a new book is already optioned. Called The War Brides Club, it's another family saga set in New Zealand and World War II Italy. This one will be handled by her new, London-based agent.
"His name's Ian Drury and he works for Sheil Land, who publish quite literary fiction," says Thomas. "He's just the right person. He even sent Tom Hanks a copy of the book! He'll do all the deals with HarperCollins from now on. I don't do any of that."
There's one aspect she won't let go of however. The commercially savvy Thomas has already secured 100 per cent of the film and 25 per cent of the digital rights to The Keeper Of Secrets.
"After my career in TV and film I know the process really well. No one can get those digital rights off me for a pound. I'm not about to give up scriptwriting either."
The Keeper Of Secrets (HarperCollins $24.99) is out now.