Grant Allen turns to the Maori Queen of Cuisine for a traditional Matariki feast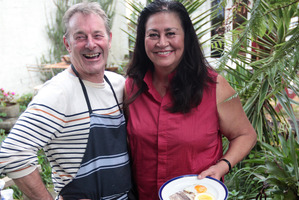 My understanding of Matariki has always been fairly vague. I knew the mid-winter festival had something to do with planetary alignments and it involved lots of cooking, sharing and eating. It seemed a good time to get Anne Thorp - modestly known as the Maori "queen of cuisine" - to sharpen my knowledge. Turns out I was only a little bit right.
For Maori, Matariki is the name of the Pleiades star cluster ("the seven sisters") and also of the season of its first rising, usually late May or early June.
It is considered the beginning of the New Year so traditionally it was the time to celebrate and prepare the ground for the coming year.
Crops had been harvested, birds collected, store houses were full so it was a good time for singing, dancing and feasting. It was also a time of learning, when young people were taught the lore of the land and how to hunt and gather. Ancestors were remembered, offerings were made to the gods, in particularly to Rongo, the god of cultivated food.
Anne told me that Matariki for her is a time for star-gazing, dreaming, scheming, teaching, sharing, cooking and receiving aroha. "The dawning of the Maori New Year sees the seven sisters sparkling unashamedly in our night skies and shining down on Aotearoa. It's a time for all New Zealanders to celebrate and feel good about themselves." Sounds like a good idea to me.
Anne arrived at our cooking session laden with enough food to fill a store house.
She started cooking and I started tasting some things I'd never tried before. I chickened out of eating the fish eye but I did eat the muttonbird and it was good.
Salty, oily and strong, it reminded me of anchovy in flavour and had a texture like the stringy threads pulled from a roast of mutton (hence its English name, I guess).
It's difficult to source muttonbirds unless you have a Maori mate but if you ever get your hands on some, grab it as it freezes well.
Anne's approach to food is the simple one we all like: use the best and freshest from the land and sea, keep it healthy and have fun. Anne's other requirements of this time of the year - the dreaming and scheming - is working, too. She was flying to Singapore to cook alongside French chef Stephane Istel for the launch of the restaurant, Bar-roque, he is opening with Kiwi expat Kori Millar. The restaurant will feature fresh New Zealand produce cooked in a modern French way.
It's a busy life, but Anne has enough aroha to keep her strong, cooking, sharing and, I am sure, still doing the odd bit of star-gazing. Here are some of Anne's recipes to try at home to make a Matariki feast.


Recipes
• Barbecued gemfish (hake) with fried egg
• Poached mullet with horopito
• Slow roasted fish heads
• "The Pot" Pork & puha with steamed vegetables
• Risotto with fresh herbs and twice cooked muttonbird


• Anne will be demonstrating at the Wananga-a-kai event at the Mangere Arts Centre, July 9, 7pm-9pm. Songstress Hinewehi Mohi will be singing in-between the stirring of the pots and pans. The event is free but tickets are needed. Call Mangere Arts Centre or see matarikifestival.org.nz.