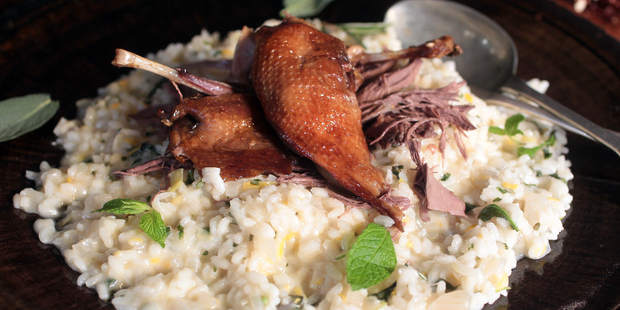 I really liked the way Anne served muttonbird with a creamy risotto, as that is a good way to introduce its distinctive taste.
• 2 muttonbirds (titi)
• 2 bay leaves
• 1 litre hot chicken stock
• ¼ cup olive oil
• 8 shallots, finely chopped
• Zest and juice of 1 juicy lemon
• 1 cup Arborio rice
• ½ glass white wine
• 2 tbsp parmesan cheese, freshly grated
• 120g soft feta cheese
• A handful of mixed fresh herbs, sage, basil, thyme, mint, coriander, parsley and rosemary, chopped, plus extra to serve.
• 2 tbsp extra virgin olive oil


1. Submerge titi in a large pot of cold water and add bay leaves. Bring to the boil and then simmer very gently for 1½ to 2 hours. Leave to rest in the liquid for about an hour.
2. Preheat oven grill to 200C. Drain all liquid off titi and place on baking paper on an oven tray, skin side up. Grill for 10-15 minutes until the skin becomes very crisp.
You will find more oil will be released from the birds. Put aside.
Risotto
1. Coat base of heavy-based saucepan with olive oil, heat, then add shallots and lemon zest and cook for 1-2 minutes or until translucent.
2. Using a wooden spoon, add the rice and stir for about a minute until the grains are well coated and glistening.
3. Pour in wine and stir until it has been completely absorbed.
4. Add a ladle of hot stock and simmer, either stir mixture or let it self absorb without touching it. Continue to add stock ladle by ladle, cooking as before, until the liquid is absorbed and the rice is tender but firm (al dente), about 20 minutes. Reserve the last ladle of stock.
5. Add the reserved stock, feta, parmesan, herbs, lemon juice, and half the extra virgin olive oil. Season to taste.
6. Remove from heat, cover and let rest for 2 minutes. Stir in rest of extra virgin olive oil.
7. Shred titi into small pieces, removing any fatty parts and skin and add to risotto. Sprinkle with the reserved chopped mixed herbs and serve immediately.