Meg Liptrot looks for something sweeter in the world of roses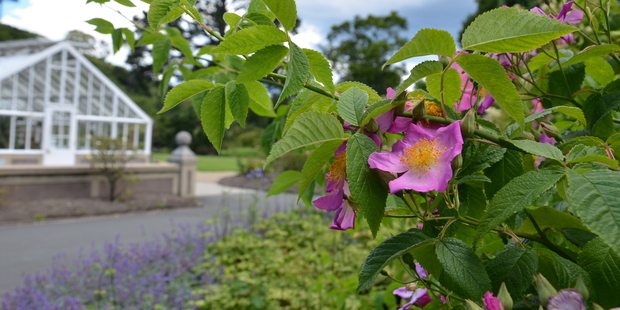 Old damask roses' heady scent drew me in, and modern cultivars with unusual colours caught my eye. I love roses, and can't help stopping to dip my nose into any I see overhanging a fence. Sometimes the scent is a delight, other times a slight disappointment, but scent is not always the reason a rose is chosen. For me, one of the reasons for choosing a rose is its backstory or heritage. Choosing a flower that has a story builds meaning into your garden, even if it's just about how you discovered the rose in the first place.
The complexity of the rose world is daunting and new cultivars are constantly being bred. The range is expanding exponentially so, to make things simpler for my own garden choices, I've settled on a category of personal interest to help guide my decisions.
Species roses capture my imagination. They are the original wild roses and, although these originals are harder to get hold of, I enjoy challenges.
In January this year, we visited the Dunedin Botanic Gardens. This is the oldest botanic garden in New Zealand, established in 1863. The day we visited was hot, so I left my companions to meander and made my way quickly through the baking stone terraces of the alpine garden.
Reaching the glasshouses, I wandered along a pretty, hedged, perennial border garden that was humming with bees. The path led me to the rose gardens, which were categorised by type. I was thrilled to discover an entire garden near the glasshouses dedicated to species roses and their simple hybrids. My heart leaped.
There were all sorts of fascinating roses growing in the species bed. R. omeiensis pteracantha, with its huge, broad, translucent red thorns, glowed in the afternoon light. I also spotted the gorgeous and uncommon Rugosa hybrid "Rugspin" with deep carmine single blooms. A rose I had set my heart on, the Prairie rose Rosa setigera, was blooming.
I plan to recreate the feel of a wild rose at an old farmstead. We are moving to a more rural locale in a year or so, and will have a blank canvas to start with. Our main focus will be edibles, but now there is space, roses will be welcome additions and will be beneficial for bees and other insects.
The Prairie rose is similar to a wild briar rose, but with larger, blush-pink single blooms, which will add interest to a bank along a post and rail fence. This rose originates from North America and has arching stems up to 5m high with red hips in autumn.
If you are after repeat flowering, species roses are not for you. Generally, modern cultivars have been bred for this purpose. There were plenty of other beds to capture my nose in the botanic gardens. Old damask roses' heady scent drew me in, and modern cultivars with unusual colours caught my eye. Whatever your theme, Dunedin Botanic Gardens offers a great selection of roses that will help make any decision easier.
As an organic gardener, I look out for rose plants with good vigour, whose foliage is strong and healthy, particularly towards the end of the season when humidity becomes enemy number one and dreaded black spot and mildew cause problems. Find out which are the best roses for good health if you want less hassle in the long run, and plant them where they will get plenty of air flow.
Winter is the time to plant bare-rooted roses while they're dormant. Potted roses can be planted anytime but, generally, the cooler seasons are best to get them settled in before the soil warms in spring. The beauty of the internet is that you can find all sorts of fascinating plants that may not be readily available at garden centres. If you find something youwant, and you can't buy it online or via mail-order, chat with the rose buyer at your local garden centre who may be able to get it in for you.


Watch out for

Rose curiosities
• Old moss rose, Centifolia muscosa, a mutant of
Rosa x centifolia.
• Rosa x centifolia "Cristata" (Crested Moss), another centifolia mutant.
• R. omeiensis pteracantha. New shoots' dramatic broad red thorns catch the light.
Interesting rose hips
• R. pendulina and R. macrophylla have oblong,
pendulous bright red hips.
• R. rugosa, plump hips the size of cherry tomatoes.
• R. davidii, scarlet bottle-shaped hips.
Roses with a story
• R x richardii, St John's Rose or Holy Rose. Originated in Ethiopia, introduced to Europe around 1895 and commonly grown around churches.
• Rosa gallica var. officinalis, one of the oldest cultivated roses. Also known as the Apothecary's Rose, or Red Rose of Lancaster.
• "Ann Endt", a cerise Rugosa named after the matriarch of the Endt family of Oratia (Landsendt).
Where to get them: Start with Trinity Farm or Tasman Bay Roses.
More info: See Wonderland - The Magic of the Rose at www.aucklandmuseum.com/1324/new-zealand-heritage-roses or join Heritage Roses New Zealand, www.heritageroses.org.nz


• This year is the 150th anniversary of Dunedin Botanic Gardens. The celebration is on June 30, plus various events throughout the year. For more info see dunedinbotanicgarden.co.nz