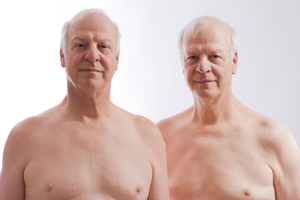 The use of twins to reveal the genetic roots of human attributes has had a mixed history, though the technique offers rich scientific pickings.
The methodology involves comparing identical twins with fraternal twins. The former have the same DNA; the latter share 50 per cent of their genes.
If you then compare a feature - weight, for example - in different sets of twins and if you find that identical twins are more similar for that feature than fraternal twins, you can conclude it has an inherited component.
In the case of weight, this is exactly what you find. Twin studies suggest that obesity is strongly heritable.
"Most estimates range between 60-70 per cent," says Professor Tim Spector, head of twin research at King's College, London.
"Most identical twin pairs are within a few kilograms of each other's weight, even in old age."
But in the 1960s and 70s, the technique fell out of favour after controversy surrounded the research of psychologist Cyril Burt, of the Institute of Psychiatry, London.
He claimed that his twin studies showed that IQ is strongly heritable. However, investigations by other academics after Burt's death in 1971 suggested he had falsified data and invented non-existent co-authors for his work.
His work was discredited, though many academics still say Burt's general findings were correct.
"The crucial point is that funding for twin studies dried up in the UK in the wake of the Burt affair," says Spector. "In addition, the field was tainted with allegations of eugenics.
"However, after 10 years, things cooled down - and it was about then that I came along with my ideas for studying osteoporosis and osteoarthritis.
"These were not considered controversial. We started off with only a few hundred twins but now have more than 7000."
Intriguingly, most of the twins involved in the study are female. "Osteoarthritis of the knee is more common in women than men and the same is true for osteoporosis.
"Added to that is the fact that women are more altruistic. They want to help. For good measure, men tend to be more frightened of hospitals."
- Observer