Now he's middle-aged, Greg Dixon is happy to be hopeless at the things he loves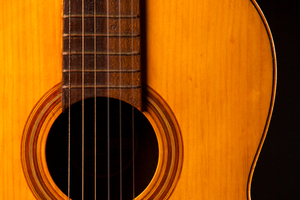 It's grim, the day it dawns on a chap that he's never going to have a hit single.
For me, this grim day followed the grim night when I had my first and only guitar lesson.
After reading an ad in Rip It Up magazine - an ad that seemed to promise I could be the next Johnny Marr in a few easy lessons - I'd gone along to some draughty, rundown dump in Ponsonby one weekday night in the mid-1980s and sat in a freezing classroom with a group of people I didn't know.
I expected the tutor, who turned out to be a plump bloke with a grey beard, would show us how to play three chords and look cool while doing it. Instead he started droning on about scales. Naturally, I didn't go back.
It didn't stop me owning guitars, of course. The first was pretty much an unplayable acoustic, so I pretty much didn't play it. The other two were cheap electric guitars that I would occasionally plug into a cheap amplifier and fuzz box and then make a hell of racket, which I thought sounded like punk.
Both guitars were taken in (separate) burglaries. After the second one was nicked I decided that if there was a god, he was trying to tell me something. I didn't buy another.
This turned out to be an enormous piece of luck, because if I hadn't had those guitars stolen all those years ago (or I had bought another one and god had decided not to have it nicked again), today I'd be a middle-aged man who owns a guitar. And if there's one thing we middle-aged men - at least we middle-aged men who can't play guitar - should not be allowed to own, it's a damn guitar.
At least that's what I have always thought. But now I am wondering whether I was wrong.
I mean, what should you do when you reach middle age and you have to concede that there are things you really like doing but at which you are, in fact, completely hopeless? Should you keep doing them? Or should you admit you're a bit crap and stay well clear, for the sake of your ego and other people's sensibilities?
Many years before I failed to learn guitar, I rather more successfully learned how to play chess. (When I say successfully, I mean I play chess better than I can play guitar, though by not that much.) Although I've loved the game ever since and have continued to play it now and then in the intervening decades, it was actually only recently, thanks to an app on my iPad, that I began, for the first time, to play chess regularly.
It's really rather fun matching wits over the web with players from places as far flung as Russia, Belgium, Holland and Estonia and, at the time of writing, I've played around 80 games, winning about 10 more than I've lost. I even bought a book on chess strategy in the hope of learning a few traps and zaps to win a few more. After all, while I am certainly no Bobby Fischer or Garry Kasparov, my game has definitely improved in the last six months and in most matches I've held my own.
But a month ago I was beaten - oh the shame of it - in just eight moves.
After several days of sulking (eight moves!) I had to seriously consider whether I should just give up the game altogether (eight moves!).
To make things worse, I started making a mental list of all the other things I like to do and whether I was any good at them: playing pool (used to think I was a hotshot, turns out I'm not), dancing (ditto), singing (double-ditto), tramping (too unfit), binge drinking (can't deal with the hangovers any more), smoking (given up for tax reasons), Scrabble (my failing memory isn't up to it) ... I'll have to stop there because it's becoming too damn depressing totting up what I am crap at.
Worse, when I thought about it some more, it turns out far from being good at stuff that I actually like doing, I'm seemingly much better at things I hate doing - dishes, cleaning floors, working, mowing lawns, driving and ironing shirts. So then: shit at the good stuff, good at the shit stuff. Typical.
And another thing: I am so much better at self-indulgent melancholy these days than at any other time in my life - of course, you'd guessed that.
But should I really care that as a chess player, I'm never going to be much good? On balance, I've decided not. What matters is the enjoyment of, say, a game well played - which that loss-in-eight-moves certainly was, by my opponent - rather than winning or losing. If that sounds wishy-washy or defeatist, then so be it. When you reach middle age, ennui is your constant enemy, so every little moment of happiness is to be savoured like it is your last.
Now, has anyone got a guitar I could borrow?