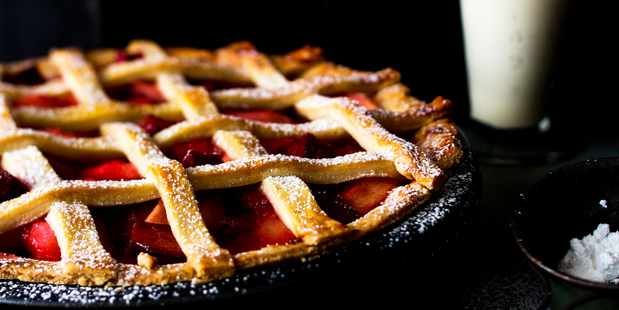 Serves 6
Pastry
• 300g plain flour
• 2 Tbsp caster sugar
• 180g cold butter, cut into cubes
• 1 egg
• 1 or 2 Tbsp water, if needed
Filling
• 25g butter
• 4 Granny Smith apples, peeled, cored and sliced
• 1 bunch (or 5 stalks) rhubarb, washed and sliced
• ¾ cup caster sugar
• ¼ tsp cinnamon
• 1 tsp orange zest


1. Place the flour, sugar and butter in a kitchen whizz and blitz until it resembles fine breadcrumbs. Add the egg, and blend to form a soft dough. Add water if needed. Wrap in cling film. Refrigerate for 30 minutes.
2. To make the filling, melt the butter in a saucepan, add the apples and stir for 3 or 4 minutes. Add the rhubarb and stir for 3 or 4 minutes until starting to soften.
3. Add sugar, cinnamon and zest. Stir until the sugar has dissolved. Set aside until needed.
4. Preheat the oven to 180C. Roll two-thirds of the pastry to 3mm thick, and line a 22cm pie tin. Bake blind for 15 minutes or until the pastry is almost completely cooked. Remove from the oven.
5. Place the rhubarb and apple in the tin. Roll the remaining pastry into a square and cut 1cm strips. Arrange on top in a lattice.
6. Return to the oven for 20 minutes, till the pastry is golden. Serve with cream or custard.
Note: You could use shortcrust pastry for the base of these pies, and puff pastry on top.
- VIVA