Let us lead you into temptation with that perennial pastry-encased favourite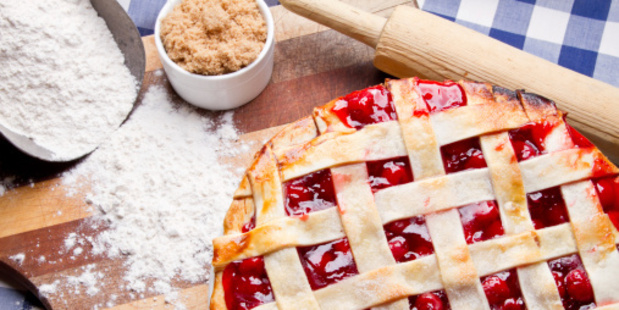 Who doesn't love a pie? They take me back to my primary school days (now I'm showing my age): 25c for a pie and doughnut for lunch, but only on our birthdays - they were a real treat.
As a family we did a big road trip around the South Island during the August school holidays one year. Most days when we were on the road, lunch was a pie. It began out of necessity - one couldn't find much else for lunch in the deep south back then. But then it became the best discovery.
The pies were amazing, mostly home-baked, from little cafes in the wops to the odd "4n20" from the service station when we were really stuck. We rated them daily - it became a topic of debate as we travelled for hours. The one thing we all agreed after three weeks on the road was that the best pies were still the ones from our local bakery in Kaiwaka.
Now the humble pie is taking us into winter. The options are many - from a blend of traditional steak and cheese or mince, through to tasty vegetarian lentil or spinach and feta served with filo pastry as a lighter option.
Then there's sweet lemon meringue, apricot or strawberry pies - just about anything can be made into one.
They travel well for a picnic, and can be simple or a little bit fancy.
Probably the best thing about making your own pie is you know what's gone into it: natural, wholesome ingredients, no artificial flavours or colours. There is a bit of work involved, but it's worth the effort and once the work is done, it's ready to put in the oven at a time that suits.
There's nothing worse than a pie with a big topping but not much filling, so do be generous. This slow-roasted lamb pie is succulent and tender. I used miso instead of stock for a twist, and I just couldn't leave out the mushrooms and thyme - they're so delicious.
Potato topping is a classic for shepherd's pie and a hint of spring onions adds a crunch. I think you'll find everyone in the family will devour it.
Homemade pastry is always a must on my pies, but if you're not confident with your pastry or too busy, store-bought is fine.
Chicken and brie is a combination that came about in the 70s - very fancy indeed! Add leeks, chicken stock, plenty of seasoning and place in pastry for a very edible pie. I like to use shortcrust pastry for the bottom - blind bake it to ensure it doesn't become soggy when the filling is added. This is not essential, but preferable. Puff pastry on the top creates a light, crunchy topping; the egg wash adds a shine.
If you're a rhubarb fan like me, this apple and rhubarb combination with a hint of orange and cinnamon is a treat. I love this pie hot with custard, or cold, eaten with my fingers.
Your homemade efforts may not look quite as perfect as the store bought versions, but they will taste so much better.


Recipes
• Slow-roasted lamb and mushroom shepherd's pie
• Chicken, leek and brie pies
• Rhubarb and apple pie


•For more of Angela Casley's fabulous recipes, visit foodhub.co.nz
- VIVA