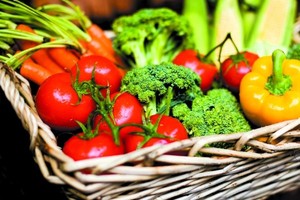 This is a frantic month for growing. It is if the plants have realised that the cold weather has passed and it is safe to hurl out their tender young growth.
Ripe for the picking?
Asparagus, broad beans, beetroot, carrots, lettuce, lemons, grapefruit, oranges and rhubarb. In the vege garden?Keep planting tomatoes, corn, courgettes and French beans out in the garden. Treat yourselves in the months to come and plant a variety of tomatoes. Now many garden centres offer many of the heirloom types of tomatoes along with the more modern varieties. Go crazy and plant some black, some purple or some pear shaped tomatoes.
There are many theories on how to grow the best tomatoes. Generally they like compost-enriched soil, a sunny, well-drained spot and a thick stake if they are tall growing. When you plant them out, plant them deeper than the pot they came in. Tomatoes can develop roots all along their stems. Some people pop a tablespoon of milk powder around the roots as they plant. Others pierce the stem with some copper wire to protect the plants from disease.
If you are a lazy gardener like me you can just 'plant and leave'. No pinching out laterals, no staking, no nipping out the first flowers. This is a permaculture method of letting the tomatoes mix and mingle and grow together forming a thicket of sorts. The fruit is protected from birds, the plants are protected from high winds and forms its own living mulch of leaves. Not to mention the fact that you have more time to do other things.
This is also the month to plant French beans directly in the ground, transplant cucumber, chilli, eggplant and courgette plants so they can also get off to a cracking summer start.
Compost
Any remaining compost can be spread on the garden providing an ideal time to start to accumulate new ingredients to construct a new ??pile. The best position for a compost pile is near a water source and somewhere you can reach with a wheelbarrow.
Herbs
Hyssop
Hyssop is a small woody shrub with aromatic leaves and small blue flowers. Bees love the blossom. White cabbage butterflies are also attracted to its flowers and some people say to plant hyssop around your cabbages to attract butterflies onto the hyssop rather than your brassicas.
Dandelions
This common garden plant has a long tap root and bright yellow flowers visited by bees. The roots can be dried and used as a very poor (I think) coffee substitute. The young leaves can be used in stir fries and salads. The French cultivate the dandelion which is sold as a vegetable.
Visit Janet Luke's website at greenurbanliving.co.nz
Urban Livestock
Poultry
All the girls will now be shooting out eggs left, right and centre. It is handy to learn how to tell if a hen is laying. All layers will have a bright red comb which is plump. If you place your hand between and under their hips there should be a space around 3-4 fingers wide. The slacker hens, which are not laying, will be the first ones to jump up on the perch for bed.
The Cochin
This laid back friendly ball of feathers originated in China. Apparently Queen Victoria was given some as a gift and fell in love with them. They are more ornamental than layers, a good effort for them is an egg a week! They make wonderful mothers and are very quiet, friendly and hardy. ?They come in all colours and patterns. They will happily waddle around your garden with their comical powder puff appearance.
Urban orchard
Plant out strawberries in pots, planters or directly in the? garden. Allow for about four plants per family member. Mulch around each plant with straw to avoid the fruit touching the ground. Get some netting organised to ward off those pesky birds.
Last year I reused an old paddling pool frame and some netting to construct a bird safe enclosure. Water strawberries regularly and start feeding with blood and bone or a liquid fertiliser. It is a good time to plant out a passion fruit vine. Choose a north facing wall or fence. The hottest position in your garden you can find. Mulch around the plant with compost and provide some netting or trellis for the vine to snake up.
Eco tip
Have you had that letter home from school regarding head lice? Rub Diatomaceous Earth into your child¹s hair as a natural, non-toxic treatment and deterrent.