Address:
387 Tamaki Drive, St Heliers
Phone:
(09) 575 6995
Rating out of 10:
Food: 7, Service: 9, Value: 8, Ambience: 7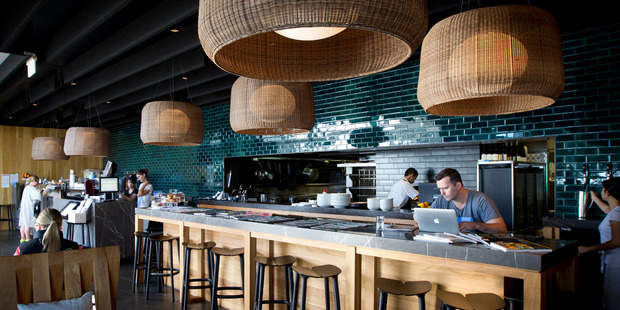 They may well have complained when this building on the corner of Tamaki Drive was built, but now it's here the citizens of St Heliers are flocking to their slick new eatery.
No wonder. The St Heliers Bay Bistro is the latest invention of the Hip Group, the people who gave us the Takapuna Beach, Richmond Road, Rosehip and Kohi Cafes, plus Ortolana and Milse at Britomart. And once again they have created a cool and chic spot.
From the moment we arrived we were made to feel welcome, even though the restaurant was full. I usually avoid places at which you can't book, but as Bistro's answerphone message assured us, they have an excellent paging scheme. There's none of that awkward standing about. Staff greeted us with enthusiasm, found us chairs at the long bar table at the front of the restaurant (where you sit facing other waiting diners, armed with a lobster that "goes off" when your table is ready), plied us with fizzy water (free) followed by glasses of excellent wine (at reasonable bistro prices) and ushered us to a dining table just as our companions arrived.
Fifteen minutes later, our entrees were in front of us. There's a big emphasis on seafood here at the seaside, with at least two-thirds of the appetisers and main courses seafood-based. As a starter, I chose the smoked fish pate with aioli and croutons. It was sweet-smoked and carefully combined, so the fish retained its original texture, rather than being reduced to a tasteless paste in a food processor. The accompanying aioli worked well too.
The tuatua fritters were equally good, though slightly overpowered by their batter, while the clams were tender and delicately flavoured without a trace of sand. Andrea was well pleased with her carpaccio of fillet steak topped with shaved parmesan and truffle oil.
All the entrees were generous, while the wines by the glass came in three sizes: 75ml, 125ml and 187ml. And although I scorned the idea at the beginning, it came in handy when our trusty driver (me) fancied another couple of mouthfuls of that glorious Pegasus Bay riesling.
All this was served by a progression of friendly and highly efficient waitresses, most of them blond, their hair tied into a single plait worn over one shoulder. It looked charming. They, plus a posse of male waiters, scooted between the closely packed tables like dodgems, while diners chattered, ate, drank and left, to be replaced by another group in a ceaseless sort of merry-go-round. And because there was no background music, even Brian could hear the conversation.
But back to the food. Our main courses were hearty bistro style with prices averaging $25. The fish and chips were as good as I've had since the battered rock cod that was the high point of my life in London in the 60s, and Brian's calves' liver was brilliant too. Both were plainly cooked: the fish crispy yet moist inside; the liver sauteed until just off-rare and creamy, and served with bacon plus a piquant sauce.
Only Andrea struggled a little. While her skate wing was tender with that delicious tang you get with skate, it was just too much and too monotonous, despite the butter sauce.
She had another bad moment when, after much deliberation and a full recital of its contents, she decided to have the knickerbocker glory to finish, and spooned into espresso coffee icecream instead of the promised chocolate. Unfortunately, she hates coffee. So, despite a parade of plaited beauties offering her another dessert free of charge, she gave up and joined me with the mango and passionfruit gelato, while the men demolished the knickerbocker glory in about two minutes.
In all, this was a night to remember, probably because the service made us feel as though we were more part of a village party rather than in an anonymous restaurant. Our wine was constantly topped up; another waiter who took our money thanked us for coming and again for the well-deserved tip.
The decor is chic in a minimal way and improved by a wall of emerald green bricks at the kitchen end. Our only complaint was the size of the tables. Our round table was so crammed we had to sit our bottle of syrah on the windowsill.


Our meal: $323 for four entrees and main courses, two desserts, a beer, and a bottle and five glasses of wine.
Wine list: An excellent line-up, most available in three glass sizes.
Verdict: The Hip Group does it again with this chic local bistro offering an ambitious and interesting menu attracting diners from all over the city.