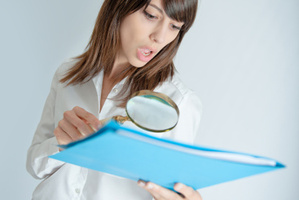 Some people ain't too bovvered by examples of bad grammar. But others, the self-appointed "grammar police", are quick to frown upon the use of faulty punctuation, nonexistent words, split infinitives and other crimes associated with written communication. They interpret such transgressions as signs of weakness and even ignorance.
"Poor grammar and writing is an epidemic in the workplace", according to the author of Forbes' I Don't Tolerate Poor Grammar. The CEO who wrote the Harvard Business Review's I Won't Hire People Who Use Poor Grammar has a no-nonsense attitude: "if job hopefuls can't distinguish between 'to' and 'too', their applications go into the bin."
But does bad grammar really matter? Sometimes pointing it out is just used as an opportunity to make someone feel inadequate. As a reader commented at Is good grammar still important?, "discussions about grammar (add in spelling too) become ...emotionally loaded with class anxiety".
It echoes the sentiment in one of the comments at Stop the apostrophe abuse: "As an English teacher, I used to be an apostrophe Nazi. However, I was cured one day when I asked the local greengrocer why he'd used an (unnecessary) apostrophe in a sign. He looked at me, shrugged his shoulders and said, 'Just dumb, I suppose.' I was the one who felt like the fool.
He'd exposed me as one showing off my superior knowledge."
It does make you wonder whether frowning on bad grammar is a form of elitism – a roundabout way of snobbishly deriding someone's level of education. Yet I suspect the unfortunate owner of the tattoo that reads "You Bleed Just To Know Your Alive" wishes they'd either paid more attention in school – or placed less trust in the tattoo artist.
A lot of people struggle with the your/you're dilemma. There's a website devoted to clarifying it which even includes a handy clip from Friends in which Ross explains the difference to Rachel.
Some other common mistakes are muddling up "there", "their" and "they're", using "could of", "should of" or "would of" instead of "could have", "should have" and "would have" – and using "less" instead of "fewer", "then" instead of "than" and "lend" instead of "borrow". Involving the misuse of words or phrases that sound similar, malapropisms – such as saying "all intensive purposes" rather than "all intents and purposes" – crop up often, too.
Redundant phrases such as "added bonus", "free gift" and "invited guest" may also offend. Similarly, some people are irked by "PIN number" and "ATM machine" which translate rather clumsily to "Personal Identification Number number" and "Automatic Teller Machine machine".


Debate on this article is now closed.