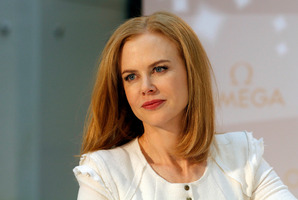 Nicole Kidman, who was inducted into Australia's InStyle's Hall Of Fame on Tuesday night, is the new face of Jimmy Choo.
The Oscar-winning actress stars in the brand's autumn/winter 13 campaign which will premiere in the August issues of global fashion magazines.
This will be the first campaign from creative director Sandra Choi since she took the helm of the luxury label.
"I've always loved fashion and often use it as a way to get into character," Kidman said in a statement.
"There is a lot of complexity, mystery and femininity to the Jimmy Choo woman."
The new adverts were shot by photographer Mikael Jansson.
In true Hollywood style, the campaign is said to have a cinematic feel that hints at the power and seduction of the Jimmy Choo woman.
"I'm such a great admirer and feel enormously honoured to be working with Nicole Kidman," Choi said.
"Nicole is one of the finest actresses in the world, who I knew could convey the empowered glamour of the brand. But she is also so nuanced and refined; she brings an attitude of defiance, strength, sensuality and elegance."
Kidman has previously acted as a brand ambassador for Omega watches and Chanel No. 5 fragrance.
The 45-year-old is also set to take part in the eight person jury at this year's Cannes Film Festival.
- COVER MEDIA