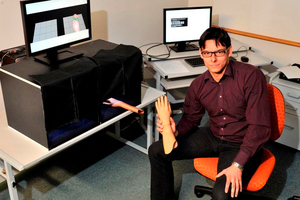 Some stroke victims may eventually recover lost hand function thanks to smart new computer system designed to fool the brain.
University of Otago information science student Simon Hoermann, working with a large Otago interdisciplinary team including researchers in information science, psychology, physiotherapy and clinical neurology, has helped develop the system.
The "Augmented Reflection Technology" aims to use visual illusions to improve rehabilitation outcomes after stroke.
"We are fooling the brain, and the brain is tricked into recovery," Mr Hoermann said.
When one hand works well but the other does not, patients are invited to hide their hands in a box, which is part of the computerised system.
Images of both hands are then shown on a computer screen, suggesting to the brain that the initially immobile hand is also moving when asked to do so.
This helps re-establish interactive links between eyes, hand and brain.
During the research, six people who had experienced chronic loss of movement in one hand after a stroke, tried the system -with promising suggestions of improved movement in three cases.
"I'm very excited," Mr Hoermann said about his PhD research.
"Now, we should get the research out there to the people."
He aimed to bring the technology to "patients in the hospital" so stroke victims could use it as part of their rehabilitation.
Stroke is the leading cause of serious adult disability in New Zealand.
Recovery of upper limb function is crucial to independence and self-care, but most patients never regain upper limb function and remain dependent on care-givers.
Mr Hoermann will graduate from the university with a PhD, at a graduation ceremony in Dunedin, tomorrow.