Address:
599 Sandringham Rd, Sandringham
Phone:
(09) 815 7086
praguebar.co.nz
Rating:
2/5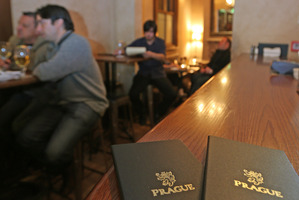 I have not been to Prague (the city). People who have tell me that it is fabulous. One woman I know who went years ago, long before it was fashionable, told me she could see half a dozen church clocks from her hotel window. I thought that was very cool.
I had not been to Prague (the bar and cafe) and I rather regret that is not still the case. I had spent a lot of time inspecting its website but the poorly spelled menu didn't really excite me. Its single concession to its name is the "traditional Czech dish" of deep-fried crumbed cheddar cheese. This concoction is about as appetising as it sounds. It is safe to say it is not one of the glories of Czech cuisine and including it is like opening a New Zealand-themed restaurant in Prague and including mince-and-cheese pies and jelly tips. Come to think of it, that's not a bad idea.
At the southern end of the Sandringham shops, Prague is a solitary outpost of European culture in a part of town that I fondly regard as Little India. This is where the excellent Satya was born, where I first saw halal meat for sale in Auckland, where the smells emanating from restaurants and takeaway shops make you look around for the rickshaw wallah.
It's where I go to buy fresh spices for a special curry, and drool over the fresh-baked naan on the counter or the blocks of paneer (fresh curd cheese) in the fridge.
So Prague is a standout establishment and I've no doubt that it's a popular spot for locals who fancy a few nibbles and a glass of wine. I should say that it was pretty cheap, because on Sundays and Mondays they have $15 mains, and the two we chose would have been under $20 full price. But price isn't everything, is it?
The room, though newly decorated, has a warm, old-fashioned feel. I'm not entirely sure that the fighter planes painted on the ceiling, which evoke the city's unhappy history of being bombed by the Americans in the last days of World War II, is precisely the right look for a snug little pub, but maybe I'm missing something.
What was slightly more alarming is that the extensive drinks list contains not a single drop of anything from the Czech Republic. Now Bohemia is not Bordeaux I know and, God forgive them, the most widely grown grape in the country is Muller-Thurgau. But a token bottle would have been nice, and a beer or two from the country that invented pilsner. Then there's the delicious plum brandy the Czechs call slivovice. The omission seems like a failure of imagination.
That "traditional Czech dish" tasted exactly as you would expect deep-fried crumbed cheddar cheese to taste. I had to try it, just as I had to try a deep-fried Mars bar when I was in Glasgow, but I left most of it on the plate for the waitress to take away, because melted cheese gives me gas.
Of the rest of the "tapas" menu (which is different from the one online; I have never understood this), the only thing that caught my fancy was the "pork belly squares". Now I am not saying that the pork had the texture of a boot sole, because I have never chewed a boot sole and I don't want some smart libel lawyer asking me whether I have. I will say that if I were ever to chew on a boot sole, I imagine that the pork belly at Prague would have prepared me.
I can also say that the bits of belly were not square, because I have seen a square.
These were more like 10mm-thick bits of bacon - the promised crackling was nowhere in evidence - and the "dijon mustard sauce" was a vaguely tangy, milky broth in which the meat tried to keep afloat.
The medium-rare sirloin was nice enough, piled with a matter-of-fact mushroom sauce, but if those fries were shoestring, the shoes they came from must have been bloody enormous. The Professor was moderately amused by her salmon fettucine.
This is a pretty standard wine bar with food verging on substandard. Next time, I'm going Indian.


Verdict: A run-of-the-mill bar with barely passable food.