Create a special Mother's Day brunch and afternoon tea with these pretty and tasty ideas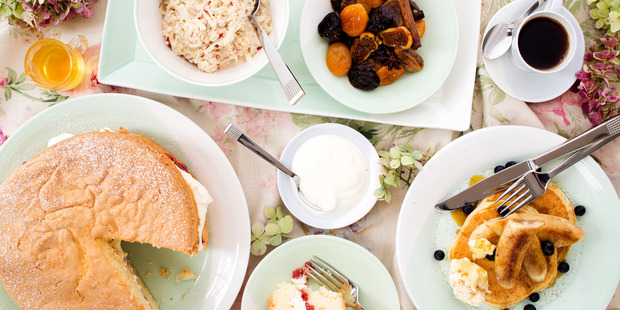 Remember to smile, mum, when you are woken from a deep sleep first thing in the morning by eager young faces with their special offerings - be it a cold cup of weak tea or soft toast that's laden with butter and Marmite. We have all been there. I confess to delivering just that at 6.30am to my Mum years ago. Then snuggling on the bed to watch her enjoy every mouthful - well, she appeared to.
She smiled and looked as enthusiastic as we hoped and we were so proud of our efforts. We didn't have tea bags in the house so the tea was made in a pot with leaves "turned three times each way then poured".
If you are dreaming of a special Mother's Day breakfast in bed or a lovely family gathering around the table, there is nothing wrong with giving a few subtle suggestions in the preceding days and making sure the ingredients for your favourite breakfast are in an obvious place.
Most of us are creatures of habit at breakfast. It becomes routine to get up and make the same thing each day, maybe turning from muesli to porridge when the weather cools or changing the seasonal fruit that we add to our breakfast cereal.
During the week it's usually a hurried bowl of cereal or toast, while eggs and bacon still seem to be a weekend treat, when there is more time to spend in the kitchen and relax and enjoy the Sunday paper.
Mother's Day, however, is a chance for someone to surprise you with a breakfast out of the norm. Instead of getting up and going to the local cafe where the noise of everyone else doing the same is deafening, try relaxing at home and letting the rest of the family take care of you.
I have chosen bircher muesli, as it is simple and is soaked the night before. I have used smaller oats but it is equally as good with the wholemeal slightly chunkier variety. The children can add whatever they fancy the next day - fruit, yoghurt, honey, coconut or nothing at all. If you have today's dried fruit compote already made in the fridge, it is a lovely addition on the side. Then it is just a case of a flower from the garden to decorate on the tray and it's sorted.
If the family tend to sleep in, and Dad is helping with the preparation while you relax and read the paper, perhaps suggest something a little more challenging like these delicious buttermilk hotcakes with fried bananas and yoghurt, which the whole family will enjoy. The buttermilk makes fabulously light hotcakes and fried bananas and mascarpone are one of those combinations that just melts in your mouth. Serve with a freshly squeezed juice and strong coffee.
Growing up, my sister was queen of the afternoon teas. Every Sunday afternoon (while the enthusiasm lasted) we had a fresh sponge cake with lashings of freshly whipped cream and home-made strawberry jam.
Pretty and feminine, this is the perfect cake to turn afternoon tea into a special treat. Sponge is quick and simple, and so light. Fold the flour in gently; over-stirring reduces the lightness. Be generous with the cream and this cake won't last long on the plate. In fact, it is really one that must all be eaten on the day!
To all those hard-working mothers, enjoy your well-deserved treat this Sunday.


Recipes:
• Bircher muesli with dried fruit compote
• Buttermilk hotcakes with fried bananas and mascarpone
• Sponge cake with cream and jam


For more of Angela Casley's fabulous recipes, visit foodhub.co.nz
- VIVA