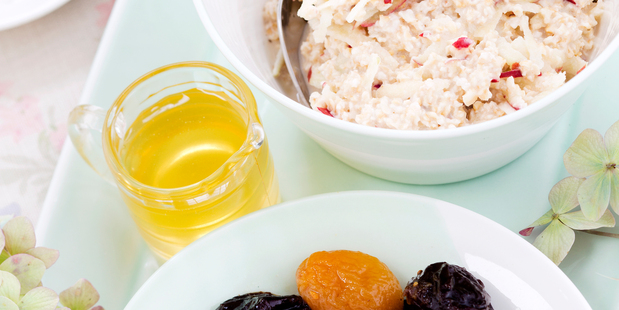 Serves 4
• 2 cups rolled oats
• 2 cups apple juice
• Juice of 1 lemon
• 1 apple grated
• ½ cup Greek yoghurt


1. In a medium-size bowl mix the rolled oats and juice, cover and refrigerate overnight.
2. In the morning add the lemon, apple and yoghurt. Serve.


Dried fruit compote
Serves 4
• ¾ cup apricots
• ¾ cup figs
• ¾ cup prunes
• Juice of 1 orange
• ½ cup water
• 1 Tbsp sugar
• 1 cinnamon stick
• 2 star anise
• Greek yoghurt and runny honey, to serve


1. Put the apricots, figs and prunes in a small bowl.
2. In a small saucepan put the juice, water, sugar, cinnamon and star anise, and bring to the boil. Stir until the sugar is dissolved and it becomes a little syrupy, about 8 minutes.
3. Remove from the heat and pour over the fruit, cover and let it soak at least overnight, or longer. Remember not to eat the star anise. They are very hard!
4. Serve with the bircher and a dollop of yoghurt.
- VIVA