Grant Allen goes behind the scenes in the Shortland Street kitchen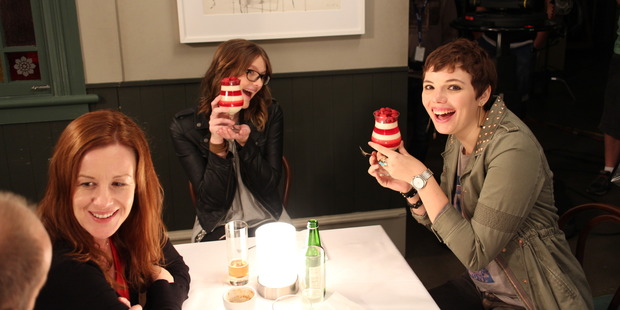 A good party dish. Make these in random vintage glasses or even small liqueur glasses and serve with a teaspoon. If you have time you can make your own real fruit jellies. In this case, jelly crystals have been used. You could set fruit in the jelly layer.
Makes 12
1. Make up 3 packets of 85g jelly crystals as instructed on the packet. Allow to cool a little.
2. Pour a base layer into each glass and put the glasses in the refrigerator to completely set the jelly.
3. Make the panna cotta. Sprinkle 4½ teaspoons of powdered gelatin over 1/3 cup of cold water and allow to soften.
4 Warm to near-boiling 1 cup of cream, 3 cups of milk and ¾ cup of castor sugar.
5 Add a dash of real vanilla essence.
6 Add the softened gelatin. Stir well until the gelatin is dissolved, about 5 minutes.
7 Strain through a sieve into a bowl standing in a larger bowl of ice water. Leave to cool but not set.
8 Pour a layer of the panna cotta over the set jelly layer in the glasses. Refrigerate to set (about an hour).
9 Keep repeating this process until you have layered up the glasses.
If the waiting jelly or panna cotta gets too firm while the glass layers are setting, warm them gently over a pot of simmering water to soften. Decorate with fruit or cream.