Address:
284 Trafalgar St, Nelson
Phone:
(03) 545 7191
hopgoods.co.nz
Rating:
4/5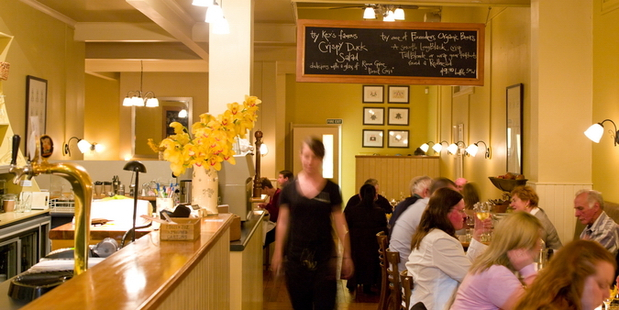 If anyone other than Pic suggested sailing around the world, I'd dismiss it as an idle fancy. But Pic's fancies are never idle.
He once had a fancy to make peanut butter, so he set up in his Nelson kitchen with a roaster that looked like a stainless-steel concrete mixer and sold the spread in the local farmers' market. Now his purpose-built factory in Stoke is pumping out 5000 jars a day and last I heard he was planning an invasion of the US.
What I'm driving at is that when Pic decides to do something, it usually gets done.
So when he told me he was buying a ship I immediately signed on as cook.
I admit I signed on when we were at a table in The Free House, Nelson's most attractive pub, which is housed in an old church in Collingwood St but I was only halfway through my first pint at the time, so it was not the beer talking.
The Free House, with its wide range of boutique beers, was my welcome to Nelson, which I visited last month for the first time in two years. But I had my eye on Hopgood's, a block or two away. And I sensed it was a good choice when I mentioned the name and Pic whistled and said "that's a lovely idea".
The restaurant occupies a long handsome room in light and dark browns, which manages to be bright and chic at the same time. A blackboard mentions drinks specials and advertises upcoming BYO nights (with $5 corkage), but otherwise the atmosphere is restrained without being formal.
It was only a Monday night but I was glad I'd booked because the place was busy.
In fact, when we called it a night shortly before 10, it was near-full. There are plenty of Auckland restaurants that would kill for Monday custom like that; if they want to know how to get it, they should eat at Hopgood's.
A slightly overbearing waitress did not allow our desire to look through the menu at leisure dissuade her from her view about when we should order. It was only a small irritation but it did remind me that there are certain phrases that should be banned in restaurants, and "are you ready to order?" is one of them. At best it sounds brusque and pragmatic; more often it seems like a hurry-up order, a code for "have you finished faffing about?". How hard is it to say "Do you need any help with the menu?" or "How are you getting on?" Just saying.
The menu is short - six entrees and five mains - in line with chef Kevin Hopgood's emphasis on being responsive to what is in season and available from local suppliers (there's a heavy Nelson emphasis on the wine list as well and I fell for the charms of Blackenbrook sauvignon blanc that evening).
But there's imagination, if not outright artistry, at work in the kitchen, too. I ordered the beef carpaccio - thin-sliced raw meat that is the carnivore's equivalent of sashimi - and was most amused by its witty take on steak, egg and chips. The superb beef was topped with shoestring fries and a soft-boiled egg that had been crumbed and briefly deep-fried so it was like a delicate version of a scotch egg. It was halved on the plate, and the yolk glistened appetisingly.
Pic was much taken with a duck leg served on "a sprouty salad" (which he said was great even though he is "not usually a sprouty guy") along with orange, ginger and sesame seeds, and the third member of our party exulted in a goat cheese souffle that was semi-liquid beneath a firm crust. It was plainly composed with some thought and a nice balance of tastes and colours.
The same quality was on show in the mains: the slabs of tuna in a version of salade nicoise were thick and generous (though that same egg put in an appearance) and my pork belly came with what was described as a crispy pork terrine, in which the skin had been rendered the consistency of a shrimp chip. The accompaniment of astringent apple and beets provided a sourness that cut right through the fat.
This was seriously classy food that was both unassuming and unostentatious. If only there were more such places in Auckland.


Verdict: A class actAll good in the top of the south