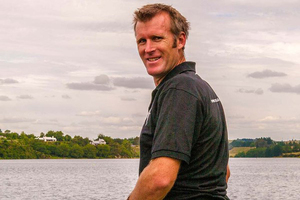 Mahe Drysdale swears by his possum fur support belt, which he says has helped him overcome back pain.
Olympic gold medallist Mahe Drysdale won't leave the house without buckling possum fur around his waist.
The rower was diagnosed with osteoarthritis in 2010 and after hearing this, retired Wanganui farmer Colin Cox suggested his possum fur belt to relieve Drysdale's symptoms.
Drysdale now swears by the product, Natures Support, and is fronting its advertising campaign.
He is not an investor in the company, but was instrumental in getting the belt to market.
"It's something I've used every single day with my training and it's been really beneficial with my back problems," he said.
Drysdale now doesn't leave the house without the belt, unless he happens to forget it.
"Now, it's a fundamental part of my day. There's always a slight lump around my stomach, but it's not a fat roll."
After Mr Cox sent him the prototype, Drysdale suggested a few tweaks to make it more comfortable. The product is aimed at helping relax muscles and promote blood supply.
Drysdale said the possum skin belt helped him overcome his back pain, and he recommended it to others.