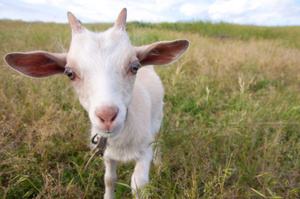 "I'm not kidding," says James Whetlor without irony, surveying the kids gambolling around his Somerset fields: "Chefs are going so crazy for kid goat you'd think we'd discovered a new species. Instead we're just making one of the oldest domesticated animals known to man, yet unfamiliar to many chefs, more widely available by turning an absurdly wasteful farming practice into a sustainable one."
While we've all been happily consuming more and more goat dairy produce, few have thought to cut to the quick of its darker side. For Whetlor, a former River Cottage chef, a chance introduction last year at a farmers' market to Jack Jennings got the pair thinking and their company, Cabrito, was born with their first dairy kid purchased from mutual friend and goat's-cheese maker Will Atkinson.
Now, they are buying fortnight-old milk-fed billy goats from 50 small farmers. Initially, the kids are individually bottle-fed twice a day. Once weaned, they are loose-housed and able to roam the fields, but as they don't live on forage alone they are relatively expensive to feed up on a rolled oat/barley mix.
"No one has taken on billy kids on this scale so we're learning as we go," he says.
Shockingly, Defra estimates that 30,000 billies are born every year in the UK but most are slaughtered and their carcasses burnt shortly after birth as they are simply too costly and labour-intensive to rear. Explains Whetlor: "It's difficult to persuade people that the best thing you can do for an animal is eat it, but it really is. For an animal to be born and have no value is an ethical disaster. What we are doing is giving it a value."
It's a cachet that chefs at some of Britain's top restaurants are embracing, including St John (their kid with braised onions, swede mash and split peas invariably sell-out), Quo Vadis (Jeremy Lee, one of Cabrito's first customers pronounces kid "a divine treat") and Newman Street Tavern in London and Michelin-starred Aumbry in Manchester, The Pass in Sussex and The Epicurean near Bath and Flinty Red in Bristol besides River Cottage. We're certainly not talking merely traditional goat curry or West Indian stew.
It seems chefs are leaping at the chance to put kid on the menu given its versatility and subtle flavour and the scope for experimentation, especially since they're buying the whole carcass. It's also high in protein and iron, low in cholesterol and lean, with half the fat of skinned chicken. "It's a genuine surprise to find out how delicate and tender the kid meat is," enthuses Mary-Ellen McTague, formerly at The Fat Duck, of Aumbry in Manchester.
"I was expecting it to be tough and have strong flavour, but the texture is wonderful. The difference is as stark as between mutton and lamb. What's thrilling for a chef is that there are few recipe reference points apart from Spanish (Barrafina serves an exceptional Castilian dish of four- hour slow-roast kid in Manzanilla sherry with bay leaf and garlic) and West Indian (as winningly cooked by Michael Smith of Isle of Skye's Three Chimneys on Great British Menu recently) so we can be really creative."
McTague serves the succulent braised shoulder layered with pearl barley and barley grass with lasagne sheets made with goat's milk and agar. For a "snack" she offers air-dried goat ham, cured for 10 days in rock salt, black pepper, cloves, rosemary and dark-brown sugar and hung for six to eight weeks and she is keen to try making other charcuterie, too.
At The Ethicurean near Bath, besides cooking kid in a pressure cooker for a speedier take on a slow braise with cider and lovage, Matthew Pennington uses the kid loin for dry-cured kid bacon infused with cumin, coriander and Scot's pine, inspired by a recipe discovered in Constance Spry. "The taste is beautiful, very delicate, curiously a little like goat's milk. I'm a huge supporter of using Cabrito. They're making a genuinely impassioned point about food waste."
True to his word, and more intriguing still, Pennington also dries and crumbs the liver and uses as a garnish for poached eggs. "It is a quite intense, incredible taste and I love the idea of kid breakfast/brunch."
Matt Gillan of The Pass, another of Cabrito's first customers, admits he'd been longing to cook with kid for years. He likes to hang the carcass himself for a further 10-12 hours to add depth of flavour and has been experimenting with the shoulder in an aromatic tagine 24-hour slow braise with marzipan, smoked almonds and red currants. "I'll change with the seasons. For spring, I'm already thinking goat rump chargrilled with smoked salt, wet polenta, wild garlic and tarragon, perhaps with artichokes and broad beans."
Perhaps most daring are Bristol's Flinty Red's co-proprietors/chefs Matt Williamson and Claire Thomson, who've devised a kid five-course tasting menu including kid kibbeh, neck and loin served chopped and raw with bulgur wheat, pine nuts, lemon and olive oil, kid offal sheftalia and kid agnoletti with lentils. More regularly, Matt favours marinating kid legs in lemon and herbs and char-grilling alongside the liver dusted with cumin and served with yoghurt and freekah. "Mostly, it is an entirely new taste for our customers and it's often a surprise they enjoy it so much."
I have to agree and confess to a certain wariness. My first experience of kid (slow braised saddle with haricot blanc beans) at Newman Street Tavern is a revelation. It is sweet, succulent, melt-in-the-mouth and tender (more so than lamb) with subtle grassy richness. It heralds spring, affirms Peter Weeden who buys entirely milk-fed suckling kid from goat's-cheese maker and affineur Mary Holcroft and delights in the thriftiness of partaking in the whole full cycle of the goat's production using the whole carcass in rotation.
"If a large group all opt for kid, they may find everyone round the table has a different cut poached in aromatics (white wine, onion, celery, leek, fennel, parsley and chervil) plus a plate of ribs glazed with honey and thyme and finished under the salamander. The sweetbreads are incredible, too - very mild and delectable fried with onions, cream and finished in brown stock.
Karam Sethi of Trishna is bemused by kid's new found trendiness.
"It's a traditional meat I was brought up on in India, where it is often used in place of lamb for authentic rogan josh or biriyani. Preferably, we cooked it on the bone to make it especially tender and flavoursome, adding the marrow into the sauce and as a child I used to love sucking the marrow bone with freshly made roti. My supplier, Tariq Halal Meats, always has kid and we've long offered kid seekh kebab on the menu marinated in ginger, garlic, fresh coriander, pungent Indian onion, whole green chillis and cooked on the tandoor."
To date, Cabrito have found selling kid to butchers for home cooks challenging due to its relatively high (more than lamb) price, though Ginger Pig are about to start stocking kid now that chefs have awaken a curiosity and demand.
For novices, Weeden advises salting kid the night before cooking to firm up the meat and help the mild flavour. To avoid the meat tightening and toughening up, poach in a light stock and allow to rest in the liquor or, if roasting, baste well and keep the temperature low. Unlike lamb it should be cooked thoroughly, "pink wobbly kid is not great."
It seems likely we'll be seeing more of the new kid on the block.
- INDEPENDENT