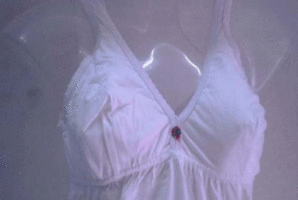 A new bra powered with an electric charge has been developed by students in India to shock any would-be rapists.
The underwear, called, SHE (Society Harnessing Equipment), can send up to 82 electric shocks when put under pressure. It is also wired with a GPS so can send a text message alerting family and police to the wearer's exact location.
Manisha Mohan, an aeronautical engineering student at SRM University in the Indian city of Chennai, used her technical skills to design the bra. The inside of the garments are insulated with polymer, with a circuit placed near the bosom, "because in the attempt of rape or roadside eve-teasing, as per survey, women are attacked first on their bosom." (Eve-teasing is an Indian euphemism for harassment.)
"A person trying to molest a girl will get the shock of his life the moment pressure sensors get activated, and the GPS and GSM modules would send an SMS [to the Indian emergency number] as well as to parents of the girl," Mohan told The Times of India.
The student is working on finding a fabric that will allow for the bra to be washed, with plans to begin "commercial rollout" this month.
Mohan said the wearer is safe from any electric jolt, because "the system is placed in a bi-layer fabric, which ensures insulation to the victim," BBC reported.
"Also the pressure values for squeeze, pinch and grab have been calibrated. The force applied on hugging does not satisfy the conditions for actuation of the device, and there is also a self-actuation switch where a woman can actuate it by herself when in unsafe environment."
A website for the project reveals what looks like what looks like a white nightgown with wiring between the breasts. Mohan cited India's recent Delhi and Bangalore rape tragedies as inspirations for the development of the product.
"The lawmakers take ages to come up with just laws and even after that, women are unsafe," the students wrote on their website.
"Hence, we have initiated the idea of self-defense which protects he women from domestic, social and workplace harassment."
- www.nzherald.co.nz