Public understanding of mental health has come a long way since the 60s, but some prejudice remains.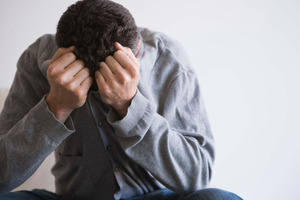 I was about 10 or 11 years old when my father was first admitted to a psychiatric hospital for treatment. I can remember being very confused and asking my teacher if my dad had gone mad. This was back in the 60s when no-one really discussed mental illness or when it was talked about it was in hushed tones. Sufferers were described as being "nervy" or having "bad nerves".
My father was in his early 50s, a very successful farmer - a big man with a big personality and manic depression (or bipolar disorder). Over the years, we got used to his mood swings. When he was on a high, he'd be frantically sorting out overseas funds then arrive home with an exotic new car. When he was down we always knew; closed curtains meant he'd taken to bed and we had to tiptoe around.
Over the years, he had several stays at Ashburn Hall (now called Ashburn Clinic) in Halfway Bush, Dunedin, but he did revel in long periods of good health. When he was unwell, rellies and friends would always say in a whisper: "Is Paddy up the hill again?"
I also spent time up that hill in Ashburn Hall. After the birth of my first child I had a nervous breakdown - another term not heard much nowadays. I was doing pelvic floor exercises in the clinic when I realised the manic depressive a nurse was referring to was me. I'd been ill in my late teens but never labelled before and at 28, that really felt like a death knell.
But I've been very fortunate. Like my dear old dad (who died suddenly with a heart attack at the age of 71) I have marvellous support from a very sensible spouse. And the medications my father struggled so much with at times are so much better nowadays.
I also have an enlightened GP (thanks Lorraine) and an excellent specialist I haven't needed to see in years, but who is always available at the end of a phone if advice is needed. To keep well, I make sure I look after my physical health, plan my schedule so stress is avoided as much as possible and avoid getting over-tired.
Many of us have been watching the multi-award winning television series Homeland, with a female lead character who suffers from bipolar disorder. Can you imagine (if you are of age) a heroine with a mental illness in the 1970s - say Wonder Woman or one of the Angels on Charlie's Angels?
Back then attitudes to mental illness were so closed.
The educational work done by the Mental Health Foundation, those very good television ads and having well-known personalities, such as Sir John Kirwan, "fess-up" to having confronted mental illness have made a huge impact.
Sir John became an All Black in the days when the top rugby player symbolised that old tough, macho image of a Kiwi bloke - a good keen man who, when times got tough, would bloody well just pull his socks up and get on with it. But he had great courage to step out and talk about his struggle with depression. And as a result others were able to open up about mental health issues.
A small change in the vernacular has also helped. Somehow bipolar disorder sounds so much more palatable and less confrontational than manic depression.
Through Google, I discovered that in the early 1950s, Karl Leonhard introduced the term bipolar to differentiate the major depressive disorder, unipolar depression. In 1980 the term manic depression was officially changed in the classification system to bipolar disorder.
Medical professionals also championed the change because they believed the term - manic depression - had been strongly stigmatised with phrases like manic Monday and homicidal maniac.
Sadly, while there have been these improvements in attitudes there is also still lots of prejudice out there. I remember a business associate (an intelligent, professional woman) recoiling from me when I told her I was manic depressive. And when I met a very successful recruitment person at a social function and asked her if she would hire a person with a history of mental illness, her immediate (without even a nanosecond's hesitation) reaction was: "Hell, no!"
Most of us Kiwis handling mental illness on an ongoing basis are doing so by living ordinary (and productive) lives out in the community.
There might be some very bleak weeks and some super-creative days, but according to history, some of the greatest architecture and music was created by bipolar sufferers. And don't forget Winston Churchill - he was one of us!
Robyn Yousef is an Auckland writer.