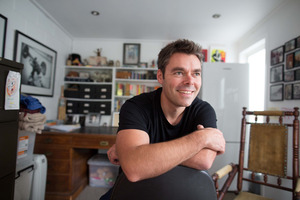 The book I love most is... Lord of the Flies by William Golding. Piggy. Ralph. Mayhem.
The book I'm reading right now is... There's always more than one. At the moment it's The Old Man And The Sea by Ernest Hemingway (again), Life Of Pi by Yann Martel and What Is The What by Dave Eggers.
The book I'd like to read next is... Lately I've been listening to audio books while running. Next on the list is an autobiography I've resisted many times, but have finally caved: Life by Keith Richards - as read by Johnny Depp.
My favourite bookshop is... Time Out, Mt Eden. I defy you to walk in there with a credit card in your pocket and not walk out with something worth reading. Trust me, I've tried.
The book that changed me is... The Beach by Alex Garland (read while backpacking around India) and High Fidelity by Nick Hornby (read while I worked in London).
I guess they affected me because they were young(ish) male writers who made me believe in what I did.
The book I wish I'd never read is... Anything by Roald Dahl. Damn you, how can one man be so brilliant?

Justin Brown is an author and broadcaster whose new book for kids, Shot Boom Score! is out now.