Working on seven of her own homes has given an Auckland interior designer plenty of practical experience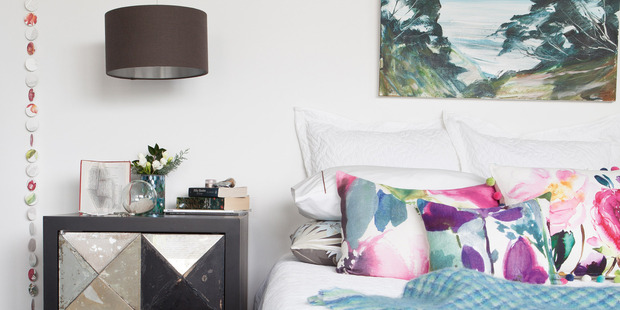 It felt like fate was at work when Donna and Pete Jones heard that a site one back from the beach was coming up for sale in Auckland's Bucklands Beach.
"Our local real estate agent approached us with a buyer for our existing home, which we had completed a few years before, just as we heard about this one. The timing couldn't have been better and it went so smoothly that it felt like it was meant to be," says Pete.
So in 2006 the couple bought the section, which was big enough for two houses. With the help of architectural designer Kim Veltman, they designed, built and sold a house at the front of the property. They then began on their weatherboard, Cape Cod-style home in January 2008, moving in eight months later.
Donna chose an all-white scheme inside and out, giving the home a clean, gallery-like feel. "Over the years we've built up a collection of coloured rugs, art and furnishings, so it's been a refreshing change using white as a backdrop, compared to the colour we've used previously," she says. "We've collected all sorts of interesting pieces, often while travelling, so looking at them brings back all those fun memories."
For Donna, taking charge of the decor was a continuation of her role in the couple's previous homes - five new-builds and two renovations.
"It probably seems like a lot," says Donna, "but most of our homes have been within just a few streets of each other, so even though we've moved a lot it's been important to us that our children Trent, 17, and Madison, 13, are able to stay at the same schools."
The experience Donna has gained from styling successive family homes has also helped launch her interior design business, The Design Option.
"Friends and family started asking for advice, and after a while I reached a stage where I was able to charge for my help," she says.
"I've been fortunate enough to have word-of-mouth keep me working on lots of exciting projects, with people who are prepared to let me help them with the process of making their lives easier. It's all about helping them create the home they really want."
Though she has had plenty of experience designing a space for her own family, Donna finds it harder than helping her clients realise their dreams.
"When it comes to our home I procrastinate more." she says.
"Thankfully, sourcing for my interior design clients gets the shopping bug out of my system."

Style tips
Green light: Donna has used bursts of colour in the mainly white decor, especially green. "It goes with so many other colours," she says. "There seems to be a bit of it in every room in our house."
Simple strategy: "The key to our uncluttered style is easy-care," says Donna. "We have durable furniture and fabrics, and timeless design."
Soft touch: Donna says there is no need to spend a lot of money updating the decor of your home if you tire of its look. "Cushions are a great way to change the entire look of a room inexpensively."