Lucky breaks, talent and hard work helped New Zealander Brent Lawler make it in the fashion world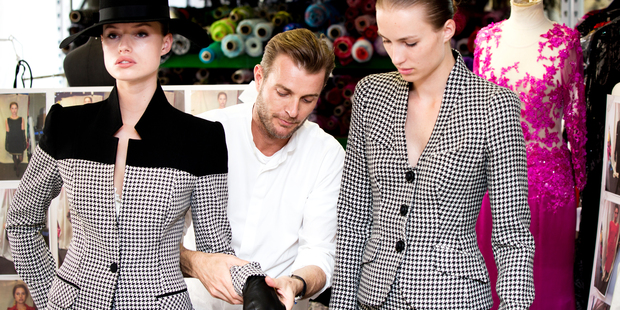 It's the fairy tale story of a boy who grew up dreaming of more, who journeyed far from home to climb the magic fashion beanstalk. Brent Lawler is at the top right now with a career that has morphed from hairstyling to creative direction, on campaigns for Dior and Prada and shoots for Vogue.
Right now he's in Miami, having jetted back from Auckland, via a night in his New York apartment, to work with Victoria's Secret swimsuit supernovas. "That's a good gig because they're good clients of mine and they're super-fun, super-nice girls," he says. He is talking about "Karlie [Kloss] and Alessandra [Ambrosio] and Candice [Swanepoel]".
The very girls another recent styling subject harrumphed to a magazine she'd rather not swap Perfect 10 bodies with. That was Lena Dunham, the sparky Golden Globe winning actor-writer-director who appears Lawlered on the cover of Interview magazine. Dunham arrived at the shoot saying she didn't want to be "squeezed into something I'm going to look retarded in". She wanted to be treated like an actor not a model.
"She was super-cool," says Lawler, "She's the girl from Brooklyn, she's a little overweight with these honky tattoos all over, that's her schtick." What he didn't like so much was her hair. So Dunham got to wear her favoured flat shoes, but she also got a flattering Mia Farrow crop.
Lawler got another calling card in his already impressive portfolio. Next up he is hoping to work with Lady Gaga. Celebrity makeovers aren't his thing, but he says he'd love to work with her.
Although quick to acknowledge that he had a lucky break when he first went to New York seven years ago, he says it takes more than luck to succeed at his game. Connections count, hard work is mandatory, but as he recounts his rise, it is obvious that talent is the deciding factor in separating the wannabes from the stayers. That, and a certain willingness to meet the world head on that carried the misfit from Hamilton first to High St, Auckland, then Sydney and finally to the Big Apple. He looked in on London along the way, but it is in New York that he feels most at home.
"Everyone goes to New York for the same reason, they want to better themselves, they want to be really good at what they do and they really are living a dream because you ask yourself, 'Can I make it here?'
"If you can't you move to LA," he laughs. "In New York it's 'bring it on' - but you better be good, don't just be all talk in New York."
Viva catches up with Lawler in the Auckland atelier of Adrienne Winkelmann, whom he has known since he was 20, pushing two decades ago.
"Adrienne was like my first 'famous' client," he explains. "Back when I owned a salon here. I volunteered to do her windows." He graduated to working on her shows and shoots. The link is still strong and the two are enjoying collaborating again on a lookbook showcasing Winkelmann's latest collection of clothes for "professional, successful women". They take turns to explain how they interact.
Lawler: I've just got back from Paris and there's some new trending happening over there and I just wanted to bounce that off Adrienne.
Winkelmann: He's helping me style the models. New Zealanders think they have to go offshore to buy beautiful clothes... You don't need to go to New York and spend $20,000 on couture. It's good to have someone to bounce off, each season we like to take it up a notch.
Lawler: I might say to her I think I see that in orange.
Winkelmann: You have to keep trying to push the boundaries and your clients' boundaries too, otherwise they sit back.
Lawler: It's our job, we're the ones in the industry, it's our job to educate them.
Winkelmann: To push the boundaries. Clients do want change, if they trust, they are open to change.
Lawler: They want to move forward, they're looking for new approaches to wear clothes, to restyle their wardrobe and they're looking to us.
Therein lies the definition of what Lawler does. He collaborates with designers and "tweaks" the look. His move from hairstyling into fashion styling is really about editing, about having that trained eye.
In the wider role of creative director it is about working even more closely with photographers to realise a vision. Lawler has two full-time assistants who do the hands-on hair while he oversees the overall look of shoots and he now goes to the Paris shows and watches rather than running on the treadmill backstage.
"I like to be in a really controlled environment, I like to be in the studio where I can control the light, the shoe, the hair, the makeup, everything. It's where I feel really comfortable and confident and super creative."
This exacting approach is not a luxury, he emphasises, rather it is an example of how much effort goes into trying to make images that transcend the ordinary. Images such as those he loves by fashion great Irving Penn. Images destined to stand the test of time.
The quest for perfection in print is why he has the pleasure of working with legends such as Grace Coddington, who still strives on in her 70s and her Vogue counterpart, sittings editor Phyllis Posnick. Posnick, who was once Penn's stylist, might spend six weeks searching for the right-looking bee to photograph perched on a model's bee-sting lips.
Balancing this sort of arcane approach with the demands of clients and commercial churn means you have to be always "on point", says Lawler. "There's a lot of money at stake, people are spending a lot of money and it's got to be right."
With so much of fashion retailing and commentary moving online, Viva asks Lawler if he thinks the printed image he adores will continue to be as influential.
"I ask this question of Vogue all the time, is there a day when Vogue will just be online? Anna Wintour's argument, and all those women who work up there, is that it's about the photography, it's about the image, it's about being tactile.
"When you look at the photography from Annie Leibovitz, Stephen Klein, or David Sims or any of those big guys you really want to turn the page and you don't get that online. If you see it's by Bruce Weber you want to flick through and see the photography, it's not just about the pretty dress, it's about those iconic images."
Lawler is responsible for a few iconic images of his own. On return trips to New Zealand he styled some of World's most memorable shows in 2005 and 2008, following up on friendships first struck when designer Francis Hooper was newly back from London in the early-1990s. Back then Lawler had a salon above Unity Books called Blahnik Lawdorf . He worked with photographer Derek Henderson and stylist Ngila Dickson, who was then editing Cha Cha magazine, before he headed to Sydney.
"I can't just go to New York," was his thinking, even though that was the ultimate aim. After six years "conquering" Sydney with a steady stream of editorial work and covers for Australian Vogue and Harper's Bazaar he and his then partner finally bought the golden ticket. Within a couple of days they had found a flat, where Lawler still lives on West 22nd St, but most fortuitously a friend invited them along to a birthday dinner party for super-stylist Patti Wilson.
"I sat next to her and we started chatting and she was like 'blah, blah with the Balenciaga from, you know, 1950...' and I was like 'I've seen that coat, it's got orange lining', and she went, 'hold on a minute, where did you come from?"'
Before he could pinch himself, she asked him what he was doing on Saturday and said, "You can do the hair on Italian Vogue with Peter Lindbergh.
"I didn't even have an agent, that's unheard of. I was like, is this woman drunk?"
Rather, she was acting on instinct and liked Lawler's ideas and sketches when she explained the shoot concept. During the make-or-break shoot Lawler knew exactly what to bring to the table. "It felt right. And we did two stories for Italian Vogue, not just one, Peter loved the first one so much."
He puts this dream debut down to a mix of opportunity, innate ability and accrued experience.
"I had a lucky break, had I not gone to dinner with Patti Wilson I would have had a really great career, because I'm good, but maybe not as quick as it happened. Who arrives in New York and shoots for Italian Vogue with Peter Lindbergh that week?"
Since then he has shot with most of the big name photographers and has recently formed a working relationship with John Beecroft, a talented young photographer who apprenticed with Annie Leibovitz and Weber. "He's really going to be a star, a big star, it's nice to come on board early with him."
The symbiotic collaborative relationship with a special photographer is what the stylist yearns for, because that is what creates the sort of arresting images Lawler loves. The work he is most proud of is when Lindbergh controversially shot his models in gas masks pushing baby strollers through the streets of Los Angeles.
In the fashion annals the images are up there with others he rates. Penn's milk-splashed model, the honey-dripped face at Alexander McQueen and Stephen Klein's hair on fire shot.
But Lawler's all-time favourite fashion moment was live on the runway at McQueen, when Kate Moss emerged from a hologram. "It was like, oh my God... it sounds pathetic for anyone who is not in fashion, it sounds pretentious to say I nearly cried over a fashion show, but there are those moments when it's just breathtaking."

- VIVA