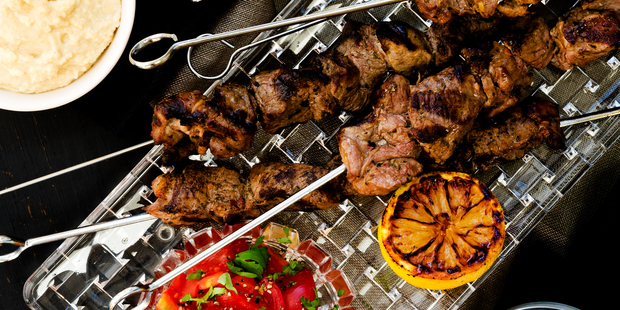 Serves 4
• 1kg lamb leg or shoulder, cut into 2cm cubes
• zest and juice of 1 lemon
• 1 Tbs oregano
• ¼ tsp dried chilli flakes
• 2 Tbs olive oil
• Salt and freshly ground pepper
Flatbreads
• 2 cups flour
• 2 tsp yeast
• 1 tsp salt
• 2 Tbs oil
• 1 cup warm water

1. In a medium-sized bowl place the lamb, lemon, oregano, chilli, and olive oil. Stir until well combined, then leave to marinate for 2-3 hours or overnight.
2. To make the flatbreads place the flour, yeast and salt into a large bowl, add the oil and water and mix until it comes together as a dough. Place onto a floured bench and knead for 4 or 5 minutes until elastic and smooth. Place into a lightly oiled bowl, cover and leave for 1 hour.
3. Divide the dough into four small balls and roll each to a 2-3mm thickness. Place on a lined baking tray and rest, covered, for 10 minutes.
4. Preheat the oven to 200C.
5. Brush the flatbreads with olive oil the sprinkle with sea salt, and bake for 5 minutes. Keep warm in a clean tea towel.
6. Thread 7 or 8 pieces of lamb on to each metal skewer.
7. Preheat a barbecue and cook the skewers for 7-8 minutes, turning once or twice to ensure even cooking.
8. Serve with the flatbread, some tzatziki, tomatoes, and lemon wedges.
- VIVA