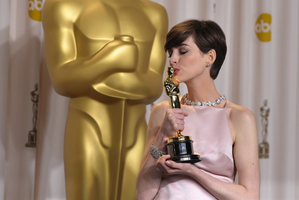 Who'd be Anne Hathaway right now? Sure, the recent Oscar and Golden Globe wins must feel pretty good. And she has money like most of us can't even imagine, plus an adoring new husband. But, in case you somehow hadn't noticed, the Les Miserables actress is also the victim of a baseless and irrepressible tidal wave of hate. Wave upon wave of it, playing out on the snarky grounds of the internet playground.
To wit: the search terms 'Anne Hathaway annoying' return more than five million results. 'Anne Hathaway hate' - at the time of writing - offer up 305 million. The headlines don't mince words, each of them a variation on: I Don't Much Care For Anne Hathaway (Crushable.com); Anne Hathaway Is Socially Awkward And Annoying (LoveandKnuckles.com); Anne Hathaway's Most Annoying Award Season Moments! (Toofab.com); Anne Hathaway Finally Understands How Annoying She Is (Opposingviews.com). During her Oscars acceptance speech (more on that later) Hathaway trended on Twitter, but it wasn't glowing praise for her win - it was a 140-character chorus of 'She's soooooo annoying'.
Check out our Anne Hathaway gallery - do these pictures grind your gears?
'Hathahate' is a curious thing precisely because no one can quite pinpoint its cause. Back in December, Buzzfeed tried to figure it out with a list that included "Face full of mouth and teeth". In fact, many cite Hathaway's face as the crux of the issue. (Or her "messy mouth", as one friend put it.) Her gawky swan neck, cropped hair, and big, sad eyes - it all seems to make people want to shove their fists through a window.
"I'm sorry, I can't explain it... there's something about her that rubs me the wrong way," laments Crushable's Alexis Rhiannan. "Look at those dark beautiful eyes. I don't like them. Listen to her skinny beautiful words. I don't like them. Shut up. Shut up, Anne Hathaway."
Even academics have weighed in. Over at Salon, psychology professor Terry Pettijohn - who has extensively researched "actress preference" - claims that "When times are good, we prefer actresses with rounder faces. They convey these ideas of fun and youth." Hathaway, he says, has a "mature face" thanks to its slim, angular shape. Which "suggests she would be popular when times are more challenging."
If Hathaway's facial dimensions already irked her public on a subconscious level (although I'd need more convincing) then her recent award acceptance speeches were bound to be the tipping point of this PR nightmare. Brimming with faux surprise and scripted, saccharine anecdotes, they were delivered in gaspy, breathy, shuddery bursts. It was an actor acting, not reacting.
At the Golden Globes, she opened with: "Oh my God, this is happening" - the same cloying utterance she opened with two years prior as host of the 2011 Oscars. "Thank you for this lovely blunt object which I will forever more use as a weapon against self-doubt," she cooed two years later, as viewers collectively flinched. At the Oscars, Hathaway gazed down at her trophy and whispered: "It came true!" - which was probably when her last remaining allies threw up their hands in surrender.
To hazard a guess, Hathaway grates so many people for equally numerous reasons, most of them projections that stem from our own prejudices or past experiences. She's the grown-up girl who kept her baby voice for way too long (surely we've all known one of those?) The class captain whose faux 'niceness' was a ploy to get you to vote for them. The teacher's pet who stayed in at lunchtimes to practice her handwriting. The aloof theatre kid whose affectedness made you want to dunk their head in the loo.
Or that girl you once knew who was always so goddam joyous, all the goddam time. As Sasha Weiss blogs in The New Yorker, there is something about girlish delight that disgusts, and is thought of as socially inappropriate, so that: "Little girls learn very quickly not to ask so openly for praise, and to modulate their excitement if they want to be acceptable." It's no coincidence models pout and glare, for example. Or that the women deemed sexy and desirable in Hollywood are the restrained ones, posing languidly in sleek dresses rather than jangling their limbs in naïve excitement.
Which begs the question: Does Hathahate embody a double standard? Juvenile male celebrities aren't ripped to shreds; they have "boyish charm". If Ryan Gosling got up and expressed unbridled joy over a win, in an actorly way or otherwise, would we grit our teeth or praise his sweetness?
Possibly we don't expect male celebrities to dampen their self-pride, because that would dampen their drive - or 'swagger' - which is sexy. For men. For women, undiluted self-pride evokes spite: Look at her - she's proud of winning. She's trying to cover it up; make out like she didn't know it was coming, but she is (proud), and she did (know it was coming).
Of course, some people love Hathaway. She's bright; she can act; she's strong-willed. "Ladies: Anne Hathaway is a feminist and she has amazing teeth. Let's save our bad attitudes for the ones who aren't advancing the cause," tweeted Lena Dunham. She's not wrong - when Hathaway was asked about her weight loss for Batman, she wittily turned it back on her interviewer. And when a photo of her vagina was taken and published, she called the incident an example of "a culture that commodifies sexuality of unwilling participants". That sort of talk takes guts.
Maybe Hathaway's mistake then was simply pretending she didn't expect to win. Which, ironically, she would have done with the sole purpose of making herself likeable. But that in itself is a crime; women should be naturally likeable, and utterly without pretence.
Any degree of fakery suggests an inner steeliness or agenda, which scares both boys and girls. Apparently, we want everyone to be like the perfectly imperfect Jennifer Lawrence, the winner of this year's Oscars popularity contest. Look, she's hungry; she watches trash TV; she tripped on the stairs - she's sassy and real, like us!
But who's to say that's not an act too? A cleverer one, if that were true (she has me in her awe) but it's not outside the realms of Hollywood-ish possibilities. Maybe the Hunger Games star just happens to have nailed a savvier sort of public seduction, one that feeds on the modern day desire for celebrities we can relate, as well as aspire, to.
At the very least, make no mistake: Hathaway and Lawrence have more in common with each other than either of them have with any of us. Both play a calculated game, because to get anywhere in Hollywood you need a serious game plan whoever you are. That's just the lay of the land. Whether people will applaud your arrival is a case apart.
Debate on this article is now closed.