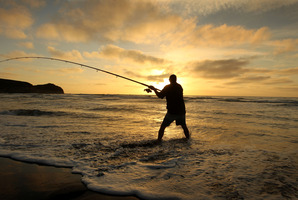 It seems ironic that the weather has turned into a classic Indian summer, with hot, calm days, and yet the snapper fishing has not improved.
Last year had a bumper fishing season while the summer weather was diabolical. It just shows, yet again, that just when we think we have the answers to what is going on nature pulls the rug out from under our feet.
Maybe the shallow water is now too hot for the fish and they have moved out. Whatever the reason, it is still patchy with a lot of small fish around. The optimists among us will point out that March and April are traditionally prime months and we have plenty to look forward to.
The good news is that the work-ups are back. Near Auckland schools of anchovies have moved in and are providing action at the back of the Rangitoto lighthouse, off Maria Island and at the bottom end of Waiheke Island.
Birds and kahawai splashing on the surface are the indicators, and further out at 45m there are more work-ups, which can be fished with inchuku jigs, soft baits or cut baits while drifting.
Big snapper, and kingfish, can be targeted with whole yellowtails with the head cut off. This allows blood and juices to leach out, and deters the small pickers. Rigged with two 7/0 hooks fixed 100mm apart, this is one of the best baits for snapper.
The channels are producing some fish but it is hard work. The change of tide off Park Pt has been consistent, and the outgoing tide starts running at the Tamaki Strait end of the Sargent Channel before it does at the Crusoe Rock end, so it is a case of continually moving to work the best of the tide.
Game fishing off the west coast has seen one of the best seasons for many years, simply because the weather has allowed small boats to get out for the past few weeks. With marlin, mako sharks and albacore and skipjack tuna there is usually some action, but snapper have been scarce this summer. The "skippies" that are so popular for bait are actually fine eating, but they have to be handled like a large tuna - bled, cleaned and put straight on ice or in a slurry.
Usually they are left in a fish box to bleed in the sun, which rules out any conversion to table fish when you get home. But cut into steaks and marinated in a Hawaiian recipe of grated ginger, oil and soy sauce then barbecued or fried until still rare in the middle, they are fine fare.
Another method is to chunk fillets, removing the dark red flesh, rolling in breadcrumbs and pan-frying. Then there is always sashimi.
Albacore can be treated the same way, but have lighter-coloured flesh which dries out if overcooked. The heads, guts and frames can always be converted to berley and there is nothing better. Kahawai and old bait can be added, and some people like to add pig pellets for bulk. A hand mincer is fine, and a kitchen waste processor is even better but should probably be set up outside.
Freshwater
Fishing deep in the hot conditions continues to produce the best results on the deep lakes at Rotorua and Taupo, while trout are lethargic in shallow lakes and streams. Lake Rotoiti is the stand-out, with a 5.5kg rainbow caught recently. It was a 3-year-old hatchery-raised fish, which would have been a monster by the time it returned to spawn in the winter.
Fish coming from Lake Tarawera are in top condition, and will also improve through the autumn. The stream mouths entering Lake Rotorua are disappointing in spite of the hot weather, but Hamurana is fishing better than the other rips. The Ngongotaha Stream is low and clear, which makes fishing hard, and a streamer fished down into the deep pools is worth trying.
The summer weather affects rivers like those in the Waikato and Bay of Plenty, and fish will be found in the fast, aerated water below rapids or at the head of pools, not the slow-moving water, and the Waioeka River has good runs of large smelt so a grey ghost or similar pattern might provoke a strike when the sun is low.
Bite times
Bite times today are 4.25am and 4.55pm, and tomorrow at 5.20am and 5.50pm.
Tip of the week
Start snapper fishing with both a ledger rig and a running rig with a trace on different rods, and switch to the more successful one. Some days one rig will work better, but the rule of thumb is in little current use a ledger rig and stronger currents use a trace.
More fishing action can be found tonight on Outdoors with Geoff at 5.30 on TV3.