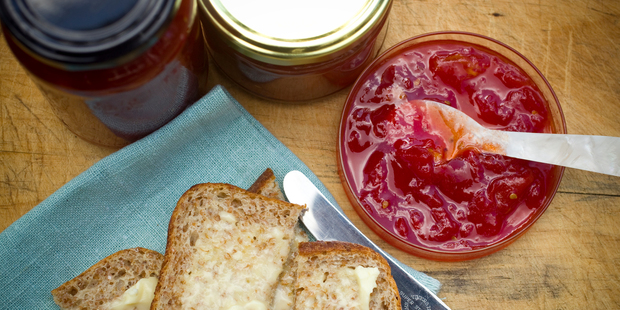 This jam has an amazing texture, colour and an aftertaste of barley sugars. I'm not sure it's a breakfast jam, but it would be perfect for using in tarts and flans, steamed puddings or with strong cheeses. I used 1.5kg of ripe acid-free roma tomatoes which I cut into small chunks. Leave the skin on.

1. Put the chunks in a heavy-based pan and add 800g of castor sugar.
2. Peel 100g of root ginger and cut this up into very small slivers.
3. Start the heat slowly to melt all the mix together.
4. Simmer gently until you get a setting consistency. This took me about 2 hours over a low heat.
5. As the jam starts to become more syrupy watch it closely and stir frequently.
6. Bottle up into sterilised jars and seal.
7. Store in a cool dark place and once opened, keep in the fridge.