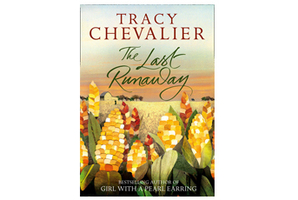 The Last Runaway by Tracy Chevalier
(HarperCollins $39.99)
At first I found it difficult to get inside the skin of Tracy Chevalier's latest heroine, Honor Bright. The voice of the young English Quaker woman, living in 1850s Bristol with its "thous" and "thees" reminded me of the Bible, it was so ancient-sounding.
But slowly Honor began to come to life as she vomited her way across the Atlantic to New York and her brave new life in America.
I don't think many of us stop to think about what it was really like setting sail for a new country in the mid-1800s. This voyage of the Adventurer, which in a modern ship would take around three-and-a-half days or around six hours by plane, lasted a full month.
And although the captain declared it the smoothest, quickest crossing his ship had ever made across the Atlantic, Honor had a terrible time. No matter how hard she tried, or how glassy the seas, she could not stop throwing up.
Which is why she knew she could never return to England, no matter how badly things went in America.
She certainly wanted to go back. Five days into their trip from New York to Ohio, Honor's sister Grace catches yellow fever and dies, leaving Honor to make her own way to the small Quaker town of Faithwell, where Grace's fiance is waiting. The mail (even in the US) is so intermittent, she arrives well before he, Adam Cox, knows his betrothed is dead.
And he makes it plain that Honor, the stolid sister of the family compared to the chattering, fun-loving Grace, is no replacement.
Somehow, without family or friends, Honor must carve out a place for herself in the new land. She finds the terrain tough, the isolation horrible. The sun is too hot, the winters much too cold. Plus, the only way she can survive is by marrying. But to whom?
The fascinating factor is how strong she is. She may be terrified much of the time, but she has her standards: her Quaker standards.
Central to the rest of the story is Honor's feeling for the African Americans who, in the mid-1850s, are trying to escape slavery in the South by running away to Canada. Their chosen route, known as the Underground Railroad, is through Quaker-dominated towns such as Faithwell, where they can rely on being ignored, if not actually helped.
But by the time Honor arrives, all this is changing. The Southern states are imposing ever-harsher laws on people who assist runaways and Honor is appalled at the way her fellow Quakers disregard the principles she grew up with: most important, that of equality between all people.
In the middle of this moral tug-of-war trots the cruel but attractive Donovan, who hunts runaway slaves for the bounty they bring. Donovan is strangely and strongly attracted to Honor and she, despite the revulsion at his chosen career, to him.
And if all this sounds just too bodice-ripping, be assured it isn't.
Tracy Chevalier gives us a faithful and realistic account of the life of women in the middle America of the 1850s, and a bold insight into the early struggles to free black slaves.
The description of Honor's first winter in Faithwell is exceptionally vivid, with its descriptions of the women of the house trapped inside for months on end because the snow is so deep. They are not able to go to the village or visit their neighbours. Instead Honor, a gifted quilter, fills the time by sewing quilts with her famous running stitch and helping to lay down winter provisions (salted bacon, preserved eggs and apples) - and then cooking and eating them.
Although Chevalier's style is linear, following Honor's adventures as they happen, rather than darting back and forwards in time, much of the information comes from her letters home to England, and the replies she gets, which are necessarily out-of-date. Except for her first letter from home - which arrives in Faithwell two weeks before she does - the replies to her letters arrive long after an event has come and gone.
In this age of the cellphone and Skype, the lack of communication is scarcely believable. And, as we're told so early in the book, Honor is stuck in America. She cannot go back.
How unsatisfactory it must have been for both Honor and her anxious family in Bristol, after waiting and yearning for news, to be greeted by letters written around two months earlier. They offer no answers to current problems, no support for a sad event long past, indeed no help at all except for the spark of joy that must have come from recognising a loved one's voice, via her or his handwriting and turn of phrase.
The Last Runaway, from the writer who gave us Girl With A Pearl Earring, puts an unerring spotlight on a slice of American history that's currently getting plenty of attention - but Chevalier does it differently, looking at America's slave trade from a unique angle and with meticulous attention to detail.
Carroll du Chateau is an Auckland reviewer.