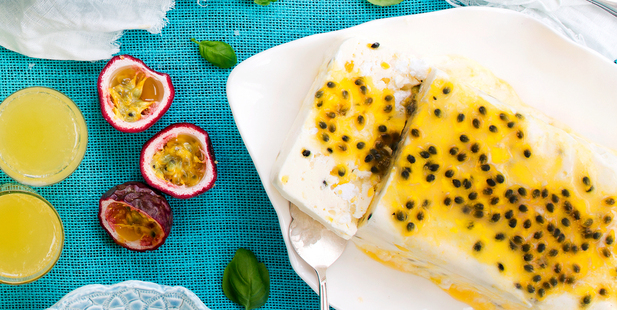 Serves 8
• 200g cream, lightly whipped
• 200g thick natural yoghurt
• 200g meringues, broken into pieces
• ½ cup passionfruit pulp - approx 7-8
• 2 passionfruit for drizzling

1. Line a 22cm loaf tin with baking paper or tin foil.
2. In a large bowl place the cream, yoghurt and meringues. Gently stir until combined, but don't overwork.
3. Fold through the passionfruit pulp. Spoon into the loaf tin, cover and freeze for 8 hours or overnight.
4. To serve, tip out on to a plate and cut into thick slices.
5. Drizzle with extra passionfruit.
- VIVA