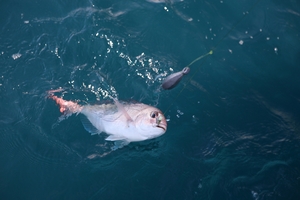 There is a large concentration of fish five nautical miles north off Gannet Rock in the Hauraki Gulf, at 42m, and the snapper stretch almost as far as Waiheke Island. In a season where fish have been hard to find, this is good news for keen anglers.
Some days the birds and dolphins working in the area are an obvious beacon, and at other times birds sitting on the water are sufficient reason to stop and have a fish.
If the wind is not too strong drifting is a good option, and a drogue always helps slow the drift. Whether dropping cut baits or lures, it doesn't take long to determine if there are many fish around.
Fish sign on the depth sounder also helps confidence, as does any change in the flat seabed. Sometimes an undulating pattern shows up, indicating a patch of low-lying foul or a drop-off. Midwater marks on the screen are usually showing schools of bait such as pilchards, anchovies or yellowtails and these are also worth checking.
Where there is bait, you will find predators such as snapper, kahawai and kingfish. In fact, kingfish have been noticeable in the area, with a lot of legal-sized kings hooked on cut baits while snapper fishing, and a jig worked fast through the water on braid line can be deadly.
Snapper are taking cut baits of pilchard or squid chunks fished on a ledger rig with circle hooks, and fresh yellowtail fillets cut into small strips target larger fish. A live bait may produce a john dry, kingfish or mega snapper, but it should be anchored with a heavy sinker well away from other lines to avoid tangles.
Some large snapper have also been taken off the reefs around Waiheke, particularly in the evenings using whole, fresh bait like mackerel.
Shallow water in close is still fishing well, but requires a more careful approach with floating baits.
Kingfish are in good numbers on offshore reefs and around Auckland in the Manukau Harbour, at the Noises and Pakatoa reef. The scallop season has another month to run, and there are still plenty at the Noises and off Kawau Island and the Coromandel Peninsula. Trevally can be found at Matiatia, and will take cut pilchards or shellfish baits. They will also fall for small soft baits or jigs, and on light tackle they are tough fighters. Fresh trevally cut into strips is a top snapper bait also.
Freshwater
Like farmers, trout fishermen would love to see some rain.
Rivers and streams develop weed and algae which makes rocks slippery for wading but does harbour insect life.
Trout will be found in the fast, oxygenated water, and at Lake Taupo rivers and low and clear making fishing hard except during a hatch. Light fluorocarbon leaders and small natural nymph imitations and dry flies are called for.
Fly fishing at stream mouth has been slow, apart from the deep mouths at the Tauranga-Taupo and Tongariro Rivers. The low lake level has made wading at these rips easier. Jigging in deep water is popular, with ginger mick and other dark patterns working well.
It is similar on the Rotorua lakes, but cold water stream mouths attract more fish because the lake temperatures are warmer. Again, jigging is popular on the deep lakes, along with deep trolling.
The old fashioned method of fly fishing known as ledgering is not used so much these days, but is still worth trying. It is very pleasant at first light sitting in a dinghy anchored on the drop-off and casting out. A slow retrieve with patterns like a red setter or mrs simpson will catch fish.
Bite times
Bite times today are 11.15am and 11.35pm, and tomorrow at noon.
Tip of the week A plastic bead on the line above the swivel protects the tip ring. A crack in the lining of the ring will shred your line, or the insert is lost which means the line is running over the metal edge. Tip rings can be tested for damage by running an old stocking through the eye, and any cracks or sharp edges will tear the material.
More fishing action can be found tonight on Rheem Outdoors with Geoff, 5.30, TV3.